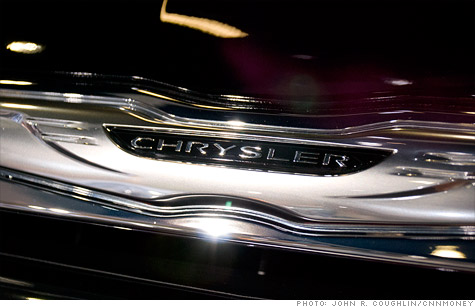 Chrysler reported sharply improved earnings and sales in the first quarter.
NEW YORK (CNNMoney) -- Chrysler Group reported its best quarter in more than 13 years, driven by strong sales that were another sign of the automaker's progress since its 2009 bailout and bankruptcy reorganization.
Chrysler earned $473 million in the quarter, more than quadruple the $116 million it earned in the year-earlier period.
The company said that it was the biggest quarterly profit since it earned $682 million in the third quarter of 1998, back when it was an independent company. Chrysler has gone through three different owners since then.
The results were a good start to the year for the automaker, which got about a third of the way to its full-year profit target of $1.5 billion -- although the company only confirmed instead of raising that target in Thursday's report.
But hitting that target will still be an accomplishment for a company that made $183 million last year in its first annual profit since 2005.
The profit turnaround at Chrysler has been matched by results at U.S. rivals General Motors (GM, Fortune 500) and Ford Motor (F, Fortune 500), as consumers have flooded dealerships eager to buy cars again despite high gas prices.
GM, which also received a federal bailout in 2009, posted a record annual profit last year. It is due to report first-quarter results May 3.
Ford reported its best earnings since 1998 last year, and its financial turnaround prompted credit rating agency Fitch to remove its debt from junk bond status for the first time since 2005 on Tuesday. The other credit rating agencies are weighing an upgrade and could remove the junk bond stigma from the company in the company months.
Ford reports results on Friday.
But profits at GM and Ford are forecast to be slightly lower in the first quarter and the full year, while Chrysler sales and earnings have been particularly strong so far this year. The results are more notable for Chrysler at a time of high gas prices, as it still depends more on truck sales than other automakers.
Revenue jumped 24% to $16.4 billion, as the number of vehicles worldwide shot up by 33% to 523,000. That increase was driven primarily by the 39% increase in U.S. sales, which accounted for about three-quarters of its overall sales.
But Chrysler also enjoyed an 80% increase in sales outside of North America during the period.
U.S. market share increased to 11.2% for the first quarter, up from 9.4% a year earlier, the best share gain of any automaker, foreign or domestic.
Chrysler received $11.2 billion in federal bailout funds in 2009, most of it in the form of loans, although the government also took a small equity stake in the automaker as well.
The company repaid the loans in May of last year, six years ahead of schedule. In July, it repurchased the shares owned by the U.S. Treasury, leaving taxpayers with an estimated $1.3 billion loss on the rescue. (See correction below.)
Chrysler is now majority owned by Italian automaker Fiat Group, which took control of the company as it emerged from bankruptcy in 2009. Trust funds controlled by the United Auto Workers union also own a large minority stake in the company.
Correction: An earlier version of this story incorrectly stated how long it took Chrysler to repay government loans.