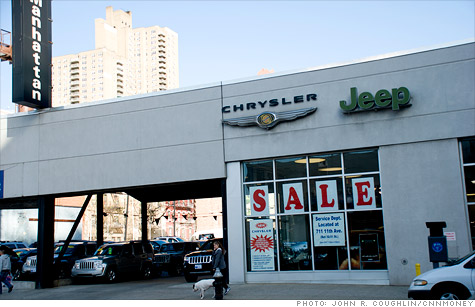 Chrysler's April sales surged 20% versus last year.
NEW YORK (CNNMoney) -- U.S. auto sales are still in the fast lane.
Automakers released April sales figures Thursday, which came in mostly ahead of expectations and prompted further optimism about the industry's outlook in the months to come.
The encouraging April figures come on the heels of the best quarter for auto sales in the United States since the first three months of 2008, before gas prices spiked and the financial crisis hit its peak.
"The first-quarter strength in new vehicle sales was not a blip or an accident -- we're seeing stable growth in new vehicle sales," said Jesse Toprak, an analyst with sales tracker TrueCar.
Industrywide U.S. sales rose 9% versus April 2011, according to sales tracker Autodata, which puts the annual pace of sales at 14.4 million vehicles when adjusted for seasonal factors.
Overall for 2012, TrueCar projects 14.5 million sales in the U.S., up from 12.8 million last year.
Chrysler Group, which has introduced a variety of revamped models over the past 12 months, posted its best April in four years, with U.S. sales surging 20% versus last year. The company had particularly strong gains with its FIAT- and Chrysler-branded vehicles.
Toyota (TM), which a year ago was reeling from the Japanese earthquake and tsunami disaster, has bounced back strongly, with 12% sales growth in the U.S. versus last year.
Ford (F, Fortune 500) and GM (GM, Fortune 500), which had strong Aprils last year as Japanese automakers struggled, slipped compared to their 2011 numbers.
GM sales dropped 8%, which the company attributed to the timing of deliveries for rental car orders. Despite April's lower numbers, GM upped its full-year forecast for light vehicle sales from between 13.5 and 14 million to between 14 and 14.5 million.
"We expect gradual improvement in the economy going forward," Don Johnson, GM's vice president of U.S. Sales Operations, said in a statement. "Over time, strength in the manufacturing sector and strong retail sales will lead to more job creation. That will help more consumers put the recession behind them, gain even more confidence and drive vehicle sales higher."
Ford's U.S. sales slipped 5% versus last year, though the company cited strong growth among its fuel-efficient vehicles.
But despite the encouraging outlook in the U.S., Europe's gathering economic problems may eat into global auto sales figures this year. Europeans are on pace to buy nearly 1 million fewer cars and light trucks than Americans this year, and automakers are trying to adjust to the waning demand that is likely for years to come.