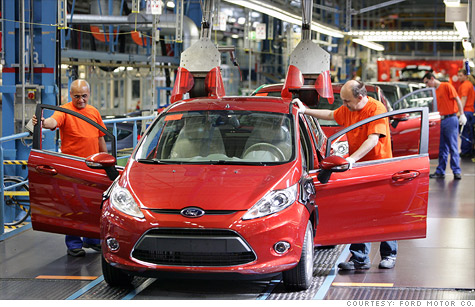 A Ford Fiesta rolls off the assembly line at Ford's Cologne-Niehl plant in Germany. Losses in Europe have become the biggest problem for U.S. automakers.
NEW YORK (CNNMoney) -- Detroit's biggest problems aren't behind it. They're about 4,000 miles to the east.
Just as a rebound in U.S. car sales and a lower cost structure have allowed the Big Three to overcome some of their problems and finally book some profits, Europe has become a major black hole sucking up hundreds of millions of their U.S. profits.
Friday, Ford Motor (F, Fortune 500) reported what was perhaps its most profitable quarter ever for its North American operations. But overseas losses, especially in Europe, cut deeply into its earnings.
General Motors (GM, Fortune 500) is likely to report much the same situation when it releases earnings on Thursday.
Chrysler Group just reported its most profitable quarter since 1998, but it has relatively little exposure to Europe -- except for the fact that it is owned by Italian automaker Fiat. Even if Chrysler's own results aren't hurt by weakness in Europe, losses at parent Fiat can't help.
It's not just a problem for the U.S. automakers. Toyota Motor (TM), which until last year was the world's largest automaker, has been losing money in Europe as well. Although it has trimmed those losses recently and reported a narrow profit there in the final three months of 2011, the weak auto sales in Europe mean it's far from being out of the woods.
Europeans are on pace to buy nearly 1 million fewer cars and light trucks than Americans this year. And the automakers are trying to adjust to the waning demand that is likely to be the case for years to come.
Just this past week the United Kingdom fell into another recession, while Spain's unemployment rate hit a record high 24.4%. There are now at least a dozen countries in recession in Europe and the entire continent may well have entered an economic downturn.
"We're going in with a business model that clearly isn't profitable," said Ford Chief Financial Officer Bob Shanks in a call with investors and media Friday. "We're starting from the point of view that the economic environment and the issues associated with the sovereign debt are going to be around for quite some time."
He's not expecting European sales to return to "normal" levels above 15 million vehicles a year for at least four or five years.
Ford has said it now expects to lose $500 million to $600 million in Europe this year. Fortunately, sales are strong enough elsewhere that it still expects improved companywide operating profits, even with that European loss.
A costly healing process: Experts say fixing the problems in Europe could cost billions, in addition to the ongoing losses because labor laws in much of Europe make it far more difficult and expensive to close unprofitable plants.
"It's a third of the global market, it's not a market you're likely to leave," said Rebecca Lindland, director of research for IHS Automotive. "Even if it's $1 billion to $2 billion to repair these problems, what can they do besides that?"
But the problems and losses didn't just arrive with the current sovereign debt crisis. Europe has had overcapacity in the auto industry for years, and the U.S. automakers have been dealing with losses off and on for quite some time there.
General Motors actually planned to pull the plug on Europe, selling a majority stake in its Opel brand as part of its bankruptcy reorganization in 2009 to save much-needed cash. But when the financial situation at GM started to improve faster than it expected, it reversed course and decided to stay.
Still, GM lost $747 million in Europe in 2011, which only looked good in comparison to the $1.95 billion it lost there in 2010. And the losses aren't going away this year given current sales levels.
A month ago GM made its latest effort to stem losses by announcing an alliance with French automaker PSA Peugeot Citroen. The companies say the pact will save the companies a combined $2 billion within five years.
But alliances -- which aren't mergers but merely agreements to share resources -- have an inglorious record in the auto industry. GM's last European alliance, with Fiat from 2000 to 2005, cost about $2 billion to unwind.