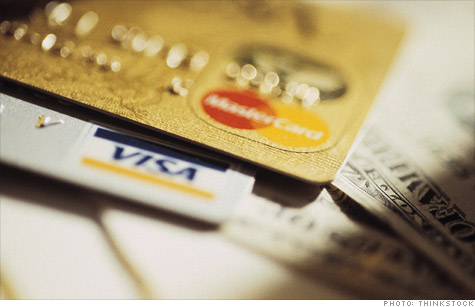 (MONEY Magazine) -- Interest rates are lousy, and you can boost your yield only so much. But these savings and credit strategies will pay off.
Get a high-yield checking account. You can earn nearly 20 times the rate of the average savings account while dodging the fees that plague basic checking accounts.
Community banks or credit unions offer the best rates (up to 4%) and will usually reimburse you up to $25 a month in ATM fees, says Ken Tumin of DepositAccounts.com.
One catch: There are usually some requirements (you may not be able to keep more than $10,000 in the account, for example). See depositaccounts.com for options near your home.
Use an online brokerage. Many offer the same features as bank checking -- direct deposit, ATM/debit card, checks, and online bill paying -- but their cash accounts are virtually fee-free (you generally need to have an investment account with the firm too).
Top picks: Charles Schwab, TD Ameritrade, and Fidelity offer both free checking and FDIC insurance, says Tumin.
What you don't know. Withdrawal penalties on CDs are high. Two month's interest is the lowest withdrawal penalty on a five-year CD, according to Bankrate.com.
Locking up your dough for just two years can pay; if you put $10,000 into Ally Bank's five-year CD, for example, after two years you'd earn an effective 1.59% vs. 0.86% on the top savings account. See Bankrate.com for the best CDs.
Flaunt your score. If you're sitting on 700 or above, don't settle for less than a 1.5% rewards rate on your credit card, says Tim Chen of NerdWallet.com, a credit card information site.
6 ways to get a great mortgage deal
Make sure that you'll take full advantage of the rewards the card offers (those frequent-flier miles won't do you much good if you're a homebody), and that the annual fees don't cancel out the benefits, says Alex Matjanec of MyBankTracker.com.
Track bonus offers. The standard sign-up offer of 25,000 to 30,000 miles sounds like a lot, but many banks will increase that to 50,000 to 100,000 a couple times a year. Capital One Venture Rewards, for example, recently ran a 100,000-miles promo, up from its usual 10,000. NerdWallet.com and MyBankTracker.com update their lists of credit card offers daily.
Best rewards cards. Tim Chen of NerdWallet.com picks the three best rewards cards.
If you want cash: Capital One Cash
No annual fee. Interest: 0% for a year, then variable.
You get: Effectively 1.5% cash back (1% on all purchases, plus an annual 50% bonus on rewards earned).
If you eat out a lot: Citi Forward
No annual fee. Interest: 0% for a year, then variable.
You get: Five points per $1 spent on restaurants and entertainment; one point per $1 for all else, redeemable for a variety of rewards including gift cards.
If you travel a lot: American Express Starwood Preferred Guest
Annual fee: $65 (waived the first year). Interest: Variable.
You get: Four points for every dollar spent at more than 1,000 hotels around the world.
Do you know a Money Hero? MONEY magazine is celebrating people, both famous and unsung, who have done extraordinary work to improve others' financial well-being. Nominate your Money Hero.
Best Deals on Everything:

Best deals on renovating your home

Best deals on cars

Best cars worth buying now

Best deals on food & wine

Best deals on stocks & bonds