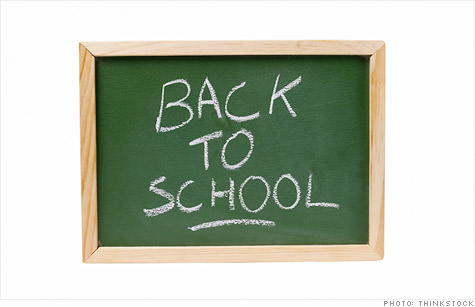 These days you can take world-class courses for free -- and get a prof to vouch for new skills -- all from the comfort of your living room.
(MONEY Magazine) -- Going back to school can be cheaper than you think, with a wealth of free online courses to choose from and an easy way to have your class work accredited. Saving for college can be easier too. We have three expert picks for the best 529 college savings plans.
If you just want to get smarter ...
Search for thousands of free classes via the Open Courseware Consortium's website. If you want recommendations, Education-Portal.com will link you to some of the best free college courses, such as the 1,800-plus offered by M.I.T. and the arts and history at the U.K.'s Open University.
To get accreditation ...
The $500 intro class at LearningCounts.org teaches you how to properly document a newly learned skill for college credit. For another $250, a professor will vouch that you've mastered the subject based on the body of submitted work; LearningCounts credits are accepted at dozens of colleges around the country.
Three great money courses:
M.I.T.: The graduate-level Applied Macro and International Economics, by Roberto Rigobon and Alberto Cavallo, explains how financial crises and economic development affect the operations of global companies.
Yale: Robert Shiller's 2008 Financial Markets shows how financial theory relates to current events and institutions like banking.
University of California at Irvine: The Fundamentals of Personal Financial Planning teaches you everything from budgeting to taxes, investing, and retirement planning. A similar class at NYU will set you back $395.
12 ways to beat the hidden costs of college
If you need to save for college ... Laura Lutton, editorial director of Morningstar's fund analyst team, picks three of the best 529 plans.
You may be best off with your state's plan if you live in a state that offers big tax benefits. If not, go with one of these direct-sold plans.
Vanguard 529 college savings. This Nevada-based plan offers Vanguard's well-diversified index funds at rock-bottom cost ($3,000 minimum).
Utah education savings. Also offers Vanguard investments with no minimum. You can opt to customize your asset allocation.
College advantage 529 savings. The Ohio Tuition Trust Authority's low-fee 529 is unique for its variety of money managers.

Best Deals on Everything:

Best deals on banking

Best deals on renovating your home

Best deals on cars

Best deals on food & wine

Do you know a Money Hero? MONEY magazine is celebrating people, both famous and unsung, who have done extraordinary work to improve others' financial well-being. Nominate your Money Hero.