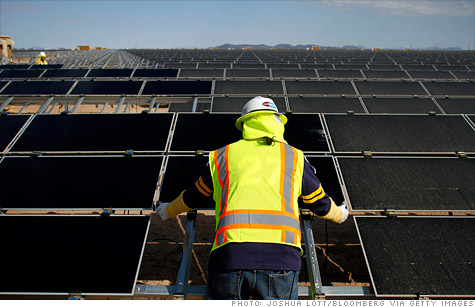 First Solar reported a massive loss on Tuesday.
NEW YORK (CNNMoney) -- First Solar, a maker of photovoltaic panels that announced a massive restructuring last month, reported a quarterly loss of $5.20 on Thursday.
The loss stems in large part from a $401 million charge related to the restructuring. First Solar (FSLR) plans to reduce 30% of its workforce, or 2,000 jobs, in order to save money.
Most of the cuts will take place in Europe, with some 1,200 positions lost in Germany alone as it closes a factory in Frankfurt. Some 120 job cuts will occur in the United States, mostly to corporate and administrative staffers. The Tempe, Ariz.-based company will also idle production lines in Malaysia.
As a result of the restructuring, the company expects to save between $30 and $60 million in 2012 and an additional $100 to $120 million annually going forward. First Solar blamed "deteriorating market conditions in Europe" for its need to implement cost-saving cuts.
The company also announced Thursday that James Hughes will take over the reins as chief executive officer, replacing founder Mike Ahearn, who had been serving as interim CEO since October. Hughes joined First Solar in March as chief commercial officer. Ahearn will continue in his role as chairman.
The company's net sales were $497 million in the quarter, a decrease of $70 million from the first quarter of 2011, due primarily to lower average selling prices and lower sales volume. The net loss was $449 million.
The results drove First Solar's stock price down about 1% in after-hours trading on Thursday.
But the company also reported some brighter news. It increased its 2012 earnings guidance to $4.00 to $4.50, compared to prior guidance of $3.75 to $4.25, excluding restructuring and impairment charges and costs in excess of normal warranty expense. It also increased its operating cash flow guidance by $50 million to $850 to $950 million.
Solar-panel companies have been hit hard by plummeting prices, even as installation of solar panels in private homes doubled last year. The U.S. solar-panel industry may also have been impacted by cheap competition from China. The U.S. Commerce Department announced in March that it would impose tariffs on Chinese-made solar panels that it said had benefited from unfair subsidies by Beijing.
First Solar has received guaranteed loans from the Department of Energy to build power plants for three separate projects.
Staff Writer Aaron Smith contributed to this report.