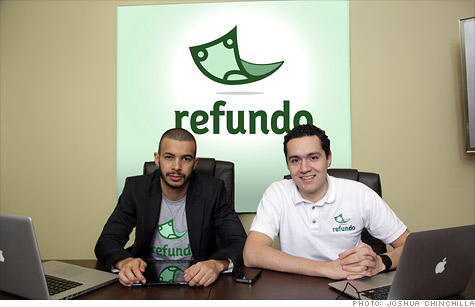 Immigrants like Grimaldy Dominguez and Roger Chinchilla, who launched a mobile banking system, are twice as likely to create a firm than those born in the United States.
NEW YORK (CNNMoney) -- Roger Chinchilla and Grimaldy Dominguez grew up watching Latin American families struggle in Queens, New York. As entrepreneurs, the two have created a free mobile banking system to help Hispanics keep track of their money.
Chinchilla came as a toddler from Honduras in 1986, and Dominguez arrived from the Dominican Republic as a child in 1993. As they tell it, both grew tired of watching workers pay sharp fees to cash paychecks at check cashers.
In 2009, two years after they launched the accounting software company Rushtax, they realized an opportunity to help their underserved area.
Many of the customers who turned to them for tax preparation didn't have a bank account to deposit their tax return. The guys decided to stem the money flow to check cashers by establishing bank accounts their clients could access from their cell phones.
"We thought the only way we could make a change is with technology -- to empower these people with their own money," Chinchilla said.
At first, they had trouble getting money to fund their idea. Chinchilla said that no major financial institution would "bank on an idea of two Hispanic kids saying they want to develop a banking experience."
Instead, they turned to microfinance company Accion for a loan.
The two small loans, totaling $24,000, let them create Refundo, a mobile banking platform that launched in June 2011. Users get a free MasterCard debit card to access their money at University National Bank in Minnesota, and Rushtax makes money from fees it charges to merchants where those cards are used.
Refundo employs a dozen people, and the duo said 300 tax preparers now offer to process returns through the program.
Chinchilla and Dominguez, now 28 and 30 respectively, said 50,000 people use Refundo in several states, including California, Florida and Louisiana.
Read more about immigrant Hispanic small business owners:
El Pichy Films: A joke turned into a company
Kanti Organics founder left Colombia and never looked back
Orinoco creates jobs on both sides of the border
From tiny jungle town to a gourmet city shop called MarieBelle