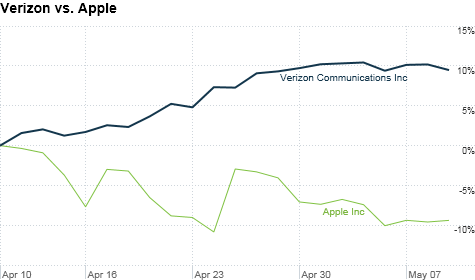 NEW YORK (CNNMoney) -- Over the past several years, Apple has arguably gotten the better end of its iPhone partnership with the carriers -- but right now, it's the telecoms that have investors more excited.
Since April 9, Verizon (VZ, Fortune 500) and AT&T (T, Fortune 500) are the second- and third-best performers among the 30 Dow Jones industrial average stocks, rising 8.2% and 7.8% respectively. In a tumultuous month for the stock market, the only Dow company to outpace the two telecom giants is Travelers (TRV, Fortune 500).
During that same one-month period, Apple's (AAPL, Fortune 500) stock, which is not in the Dow, has tumbled by nearly 11%.
That drop is particularly head-scratching given the strength of Apple's recent earnings report. The tech behemoth reported much better-than-expected sales and profits, particularly from the iPhone, which made its debut in China.
The telecoms had some surprises of their own last quarter. A sharp sequential decline in iPhone sales in the United States provided Verizon and AT&T's wireless service profit margins with a much-needed shot in the arm. Both companies pay heavy up-front subsidies to bring the cost of iPhones down to $200 for their customers.
Verizon's margin rose to 46%, rebounding from 42% in the previous quarter, and AT&T's wireless margin rose to 42%, up from 38% in the fourth quarter.
Apple's iPhone outlook for the current quarter was slightly disappointing, as the company said it would likely sell fewer smartphones between April and June than it did in the first quarter.
A trend is emerging: bad news for Apple's iPhone sales is good news for carriers -- in the short-term, anyway.
That made investors think about giving the telecoms a second chance, after fleeing from the stocks earlier in the year.
"Improved margins from AT&T and Verizon, and more muted outlooks from tech and cable companies, has caused a substantial rotation into telecom," said Kevin Smithen, analyst at Macquarie Research.
In January, both AT&T and Verizon reported steep losses in the prior quarter because of pension plan payments. Also, AT&T had to fork over billions to T-Mobile for its failed takeover bid, and wireless margins were squeezed by record iPhone sales.
Though the near-term outlook is now much better for Verizon and AT&T, the narrative could soon change again.
Apple is widely expected to unveil a redesigned iPhone this summer, capable of supporting 4G-LTE network technology. If the demand for the new iPhone is anything like it was for the incrementally upgraded iPhone 4S, the telecoms better get ready for more margin cramping -- or "iPain," as some analysts call it.
"We expect iPain to reemerge with the next iPhone refresh cycle," said Mike Mike McCormack, analyst at Nomura Securities. "We expect an LTE iPhone will drive significant new demand."
McCormack said investors are "ignoring the impact" of more iPain down the road, particularly at Verizon (VZ, Fortune 500) and Sprint (S, Fortune 500).
"When you see AT&T doing well when they sell fewer iPhones, it raises questions about the subsidy issue," said Colin Gillis, analyst at BGC Partners. "Competition is coming in hard and fast using the one lever they have: price. And though it's a good deal to subsidize a smartphone for $400 and lock a customer in for two years, it's an even better deal to do it for $200."
AT&T and Verizon's executives have both discussed the need for increased competition in the smartphone marketplace -- code for "please bring us iPhone rivals!" -- and Verizon representatives have been pushing customers hard on 4G Google (GOOG, Fortune 500) Android devices over the iPhone.
But discounting Apple is a dangerous game. Come the fall, investors who bet on the telcos over the iPhone may experience some iPain of their own.