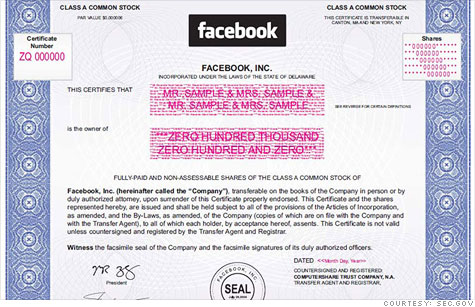 Facebook's IPO documents included this rendering of what its paper stock certificate will look like.
NEW YORK (CNNMoney) -- The typical way to buy stock in a publicly traded firm is to open a brokerage account and place an order. But for those who want to own just one ceremonial share of a company, there's an easier, if sometimes pricier, way: You can buy through websites that specialize in "one share" transactions.
The operators of those sites say they expect Facebook to become one of their most popular stocks once it begins trading publicly. That's currently on track to happen this Friday.
"It interests people who are not ordinarily interested in the stock market," says Rick Roman, the founder of GiveAShare.com. "We've been getting people asking about it for a year."
Sites like GiveAShare.com and OneShare.com are careful not to market themselves as places for serious investors. Stocks are risky, and any gains on a single share are likely to be tiny.
Instead, the sites cater to more casual fans of the companies' brands. They also offer something traditional brokerages rarely do: paper stock certificates, suitable for framing and showing off.
Companies aren't required to offer paper stock certificates, and a shrinking number of them do. Apple, for example, stopped issuing paper certificates in late 2010.
Roman says he was surprised and delighted when Facebook, which will trade under the ticker (FB), revealed in its IPO paperwork that it will make paper certificates available. (Citing pre-IPO "quiet period" regulations, a Facebook representative declined to comment on the company's decision to issue paper shares.)
Both GiveAShare.com and OneShare.com plan to begin offering Facebook shares for sale as soon as the stock starts trading. Like other retail investors, they'll be buying shares at whatever the market price is, which is likely to be much higher than the offering price.
Roman, who typically updates the stock prices on his site just once a week, says he expects to adjust Facebook's price several times on its first trading day.
Buying through a one-share site is generally more expensive for customers than buying through a broker. Both GiveAShare.com and OneShare.com charge a $39 fee for their services, which include buying the share and procuring the paper stock certificate.
Take Disney as an example. It's by far the most popular stock on both sites, thanks to its brand recognition and its colorful, cartoon-filled stock certificate. A single share of Disney (DIS, Fortune 500) cost $45.56 at market close on Friday. Buying one through GiveAShare.com currently costs $82, or $84.28 through OneShare.com.
Neither site prices its shares in real-time, so their price is typically slightly out of sync with current market prices.
"We think of ourselves as selling a product, not a stock," Roman said. "If the current share price is a few dollars higher than ours, we'll eat the difference."
The stock customers receive is a fully legal share with all the attached rights. An investor can attend shareholder meetings, and if companies pay a dividend, they'll get regular checks for the earnings (often just pennies) on their single share.
They'll also get a paper stock certificate, though that takes a few weeks to process and ship.
The cheapest option is to stick with a bare-bones cardboard frame for your certificate, but almost no one does that. OneShare.com CEO Lance Lee says that around three-quarters of his customers upgrade to a fancier package.
GiveAShare is introducing a "new, improved" frame -- "it's larger and shows off the certificate better," Roman says -- specifically for Facebook shares. Customers can customize it with messages like "MARK ZUCKERBERG WORKS FOR ME! OFFICIAL FACEBOOK SHAREHOLDER."
Facebook's stock certificates will actually be generated by its transfer agent, the company in charge of keeping track of shareholder records. Facebook's transfer agent, Computershare, declined to say how long it will take to get Facebook's stock certificates ready, but Roman says it typically takes three to seven weeks for a certificate to ship, plus an extra two or three weeks for newly public companies.
To appease eager new shareholders, his company is prepping a welcome kit for Facebook buyers. GiveAShare.com will first send out a "realistic color copy" of Facebook's stock certificate, based on the rendering the company included in its IPO documents.
"It becomes a placeholder until they have a tangible item," he says. The actual, legal stock certificate will arrive a few months later.
What happens if someone later wants to sell their single share?
Getting out is trickier than getting in. To unload, customers would need to deposit their share with a stockbroker and work through them. They would also have to surrender their paper certificate.
"I have to admit that we have been getting more calls and e-mails about people wanting to sell the Apple stock that they bought from us a long time ago," Roman says. Apple (AAPL, Fortune 500) shares that sold for $5 around 15 years ago are now worth $566.71, based on the stock's Friday closing price.
"The interesting thing is that the certificate has collectible value, so it's hard to give up," he adds.
OneShare.com's Lee echoed that view.
"People who are buying one share typically never sell it," he says. "For the underlying company, it shows true brand loyalty."