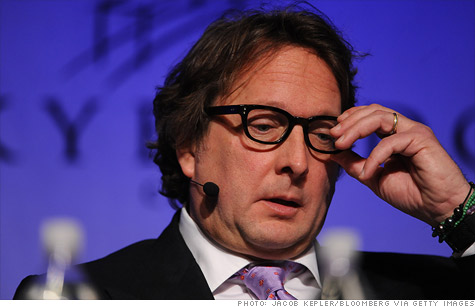 Harbinger Capital founder Philip Falcone will let LightSquared go into bankruptcy.
NEW YORK (CNNMoney) -- Unable to reach a deal with its lenders, upstart wireless carrier LightSquared filed for bankruptcy Monday.
The move has been widely expected, since the company's options for appeasing its creditors were running out. LightSquared's lenders claim that it has been in default on its debt since its $9 billion partnership with Sprint Nextel (S, Fortune 500) dissolved in March.
LightSquared's principal backer, hedge fund Harbinger Capital Management, had already twice staved off bankruptcy by receiving short-term waivers from its creditors. The last such deal, struck two weeks ago, was reached after Harbinger founder Philip Falcone agreed to leave LightSquared's board in the near future.
But the lenders continued trying to wrestle control of the company away from Falcone and Harbinger, and an agreement that would have granted another waiver extension could not be reached before a Monday deadline.
"Today's filing was not an option the company embraced quickly or easily, but it was necessary to protect LightSquared against creditors who were looking for a quick profit, as opposed to our goal to create long-term market competition," said Falcone in a prepared statement.
The Chapter 11 bankruptcy protection documents were filed in New York's Southern District Court in New York.
LightSquared's prospects for becoming a national carrier hit a major setback in February, when U.S. regulators barred the company from turning on its network, citing interference concerns with GPS devices. A month later, Sprint terminated its agreement with the company. The deal would have provided LightSquared with 4G infrastructure in return for $9 billion cash and the delivery of additional network capacity for Sprint.
LightSquared's lenders viewed the cancelled deal as a material default on the terms of the company's debt. Harbinger vehemently disagreed; it viewed the Sprint deal as essentially worthless at the time it was dissolved.
LightSquared has more than $5 billion in funding: $2.9 billion from Harbinger and $2.3 from outside lenders and investors. The company had ambitions to become the country's fifth nationwide wireless carrier, going toe-to-toe with giants such as Verizon (VZ, Fortune 500) and AT&T (T, Fortune 500).
But those dreams began to unravel in February, when LightSquared failed to convince the Federal Communications Commission and the National Telecommunications and Information Administration that its network would not interfere with GPS signals. CEO Sanjiv Ahuja stepped down two weeks later.
LightSquared's investors have increased their pressure on Harbinger to sell the company's assets to another wireless carrier. Falcone believes LightSquared still has some options available to it, including swapping wireless spectrum with another company or government agency, which would sidestep the interference issues.
The company is sitting on a truckload of valuable wireless spectrum, and it continues its hopes of entering the wireless market as a wholesale provider of 4G service. Falcone said Monday that the bankruptcy filing provides the company "the additional runway it needs to resolve the regulatory issues."
Yet that goal now seems far out of reach -- a dismal end for one of the tech industry's most ambitious and expensive gambles.