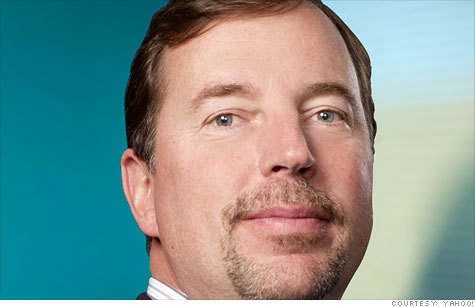 Thompson won't get any severance compensation, but he's already taken home sizable up-front bonuses that Yahoo isn't making him pay back.
NEW YORK (CNNMoney) -- It's official: Scott Thompson "resigned" from his post as Yahoo CEO's in the wake of his resume-embellishing scandal, and he'll receive no severance.
But Thompson scored a nice chunk of change as a parting gift. Under the terms of his contract, Yahoo could have required him to give back $7 million of the cash and stock he received after taking the helm in January.
But Yahoo (YHOO, Fortune 500) said late Monday that its separation agreement with Thompson allows him to keep those payments.
Thompson's departure was hastily announced Sunday, one week after activist shareholder Third Point discovered that Thompson's official Yahoo bio exaggerated his academic credentials. The bio claimed Thompson holds a dual degree in "accounting and computer science," but his actual degree is in accounting only.
It wasn't clear on Sunday whether Yahoo had fired Thompson, but a regulatory filing from Yahoo on Monday revealed that Thompson officially resigned. It cited both parties' "mutual desire to separate employment."
The company and its former CEO also agreed "to terminate all other agreements" between them. That means Thompson is surrendering all outstanding but not fully vested stock, plus "other plans and arrangements."
He won't get severance checks, but Thompson still made out pretty well on his four-month stint at Yahoo.
Yahoo is letting him hang on to the $1.5 million in cash and $5.5 million in stock he received as compensation for the bonus and stock awards he gave up when he left his previous job as the president of eBay (EBAY, Fortune 500) subsidiary PayPal.
He also collected around $333,000 of his $1 million annual base salary, and may have netted some portion of a $5 million stock award granted in February.
Yahoo said the terms of that $5 million award, including its vesting schedule and performance goals, would be the same as those of other "annual grants made simultaneously," but it hasn't yet filed its 2012 proxy detailing the terms of those grants. Thompson's separation deal calls for him to give up any unvested equity he holds in Yahoo.
Excluding that $5 million, Thompson netted at least $7.3 million for his 130 days in the job. That comes out to about $56,000 a day -- including weekends.
Clarification: This story has been updated to clarify Yahoo's vesting conditions around Thompson's $5 million stock award.