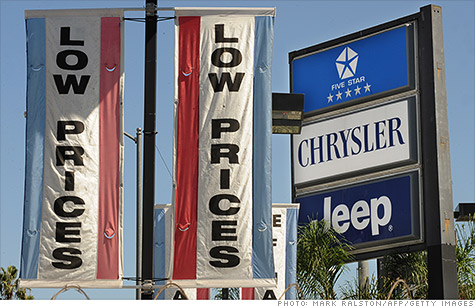 U.S. automakers reported improved sales, but less of a gain than had been hoped in May.
NEW YORK (CNNMoney) -- Most automakers reported a jump in car sales in May, but the results were less than some analysts expected -- another sign that the U.S. economy, while growing, remains weaker than hoped.
Industry-wide sales came in at an annual rate of 13.8 million when adjusted for seasonal factors, increasing 26% versus last year but falling short of forecasts.
There were continued signs of improved demand for cars and trucks, as some automakers reported their best sales totals in years. May is typically a strong month for auto sales, and some forecasters had predicted sales would be strong enough to give the industry its best one-month U.S. sales total since before the start of the recession in 2007.
Instead, last month had the weakest sales pace so far this year. But analysts still don't consider this to be a bad month for car sales overall.
"I see this as a continued step in recovery, but not the blockbuster month that was expected," said Jesse Toprak from the auto website TrueCar.
The bigger worry for the automakers could be where things go from here, given signs of problems in the overall U.S. economy.
Earlier Friday, the Labor Department's May jobs report came in much weaker than expected, with only narrow job gains and a slight rise in unemployment. A rise in Americans with jobs can be a major impetus in demand for cars due to the need for transportation to get to work.
The weak jobs report sent the U.S. stock market sharply lower, a factor that can also work against auto sales by hurting both household wealth and consumer confidence.
"Is it going to be gangbusters right away? No," said Michelle Krebs, senior analyst with Edmunds.com. "It's more of the same, and the gradual recovery we thought it would be."
There are a number of factors working to help auto sales right now, including lower gas prices, improved access to credit, and strong used car prices, which helps spur sales by improving the trade-in values for new car buyers. All worked to bring good traffic in dealerships.
Years of depressed sales has also created some pent-up demand, as buyers deferred car purchases longer than normal. Krebs said the average age of trade in vehicles has been more than six years every month in 2012, which has never happened before.
"That tells us that people have very old vehicles, and they have to or are finally able to buy because they can get a loan," she said. "There's still pent-up demand out there to unleash."
But even the automakers say they need a strong U.S. economy for them to take advantage of the factors working in their favor.
"I do think pent-up demand will definitely continue to be released this year and into next," said Don Johnson, vice president of U.S. sales for General Motors. "[But] the economy has to keep growing at a positive rate for pent-up demand to be released."
General Motors (GM, Fortune 500) reported its best U.S. sales month since the cash for clunkers program back in August 2009, as its sales rose 11% compared to a year earlier. That was the smallest gain reported by one of the traditional Big Three, but it essentially hit the Edmunds forecast, while falling short of the 17% gain forecast by TrueCar.com.
Rival Ford Motor (F, Fortune 500) reported a 13% rise in sales compared to a year earlier. It was a bit better than the TrueCar forecast of an 11% gain but short of the 16% gain forecast by Edmunds.
Chrysler Group sales rose 30%, but that was off very weak sales in the year-earlier period. The forecasts had been for Chrysler sales to jump between 33% to 42%.
Even Toyota Motor (TM), which reported that sales nearly doubled on a year-over-year basis, fell slightly short of forecasts. Toyota said its U.S. sales were up 87% compared to last year, when its supply of vehicles was limited by continued supply disruption associated with the earthquake and tsunami that struck Japan in March 2011. But forecasts had been for about a 90% increase in sales.
Honda had a similar experience, reporting a 48% sales increase but falling short of forecasts.
Shares of GM, Ford, Toyota and Honda (HMC) all lost ground Friday.
Ford slipped 4.2%, Toyota dropped 2.7%, Honda shed 3.4% and GM slipped 0.9%, its losses staunched in the afternoon after it announced changes to its pension plan that will cut its liabilities by $26 billion. Chrysler shares are not publicly traded.