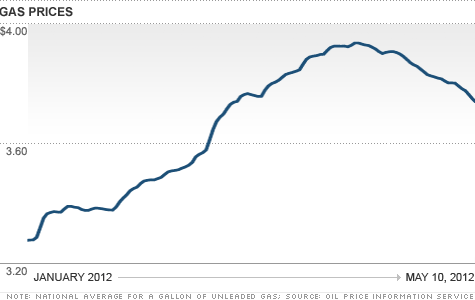 NEW YORK (CNNMoney) -- Just in time for the start of the summer driving season, U.S. drivers are enjoying some relief at the pump, much sooner than past years.
Early May is typically about the time of year that gas prices hit their peak, as refineries switch over to start making the summer blend required after Memorial Day. In 2008, the record high price for gas of $4.114, didn't come until July 17.
But this year the average national price for a gallon of unleaded has already been declining slowly but steadily for just over a month, shaving about 20 cents off a gallon of unleaded in that time. And with oil prices also falling, more declines at the pump are expected.
"You have seen an early peak in gasoline prices, and barring any headlines from Iran, that [decline in prices] should be the case throughout the summer," said Mike Fitzpatrick, editor-in-chief of Kilduff Report's Energy Overview.
The AAA reading of gas prices, compiled by the Oil Price Information Service (OPIS), shows prices down about a half-cent a day since reaching a peak of $3.936 on April 5 and 6. Thursday's average price of $3.739, is down more than 6 cents in just the last week, the biggest one-week decline since late November.
Tom Kloza, chief oil analyst for OPIS, said that supplies of crude oil and gasoline are at their highest level since just before Saddam Hussien invaded Kuwait in the summer of 1990. High oil prices in recent years have spurred the use of new technology to increase production from new sources of oil, such as shale and oil sands.
That is helping to drive the price down in most parts of the country except for the West Coast, where supplies are still tight and prices are not yet falling.
Kloza thinks gasoline is unlikely to get significantly cheaper -- prices are only 5% below the high of the year. But he thinks they should keep moving in the right direction for most motorists.
"There are a lot of folks who were predicting $5 a gallon when prices were heading up, now they're predicting less than $3 a gallon. Neither is going to happen," he said. "I'd say that $3.50 for a national average is probably as good as it's going to get."
Kloza said that part of the decline is that there has been an easing in the so-called "fear premium" associated with worries about Western sanctions and possible military action against Iran. He believes that was adding about $25 a barrel to the cost of crude oil earlier this year, now it's more like $10 to $15.
"Iran has a sort of slipped from the radar screen," he said.
But much of what is bringing good news at the pump is bad economic news.
Fitzpatrick said oil has been selling off this month on concerns by traders about demand out of Europe, with about a dozen European countries there falling into recession, and recent French and Greek elections raising new worries of a meltdown in European sovereign debt.
Signs of slower growth in China and some recent signs of weakness in the U.S. job market is also pushing oil prices down, he said, since both can cut into demand for oil and gasoline.