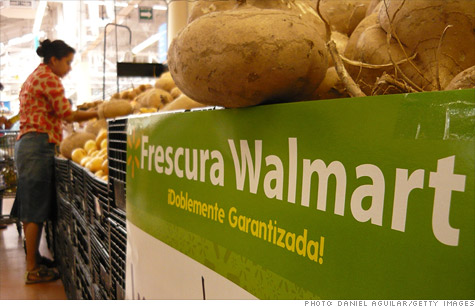 Two key House Democrats say Wal-Mart is expanding its probe of foreign corruption beyond Mexico.
NEW YORK (CNNMoney) -- Wal-Mart is expanding an investigation of alleged corrupt business practices beyond Mexico to other nations, including China, according to two Democratic congressmen.
Rep. Henry Waxman of California and Rep. Elijah Cummings of Maryland, ranking members of two House committees, said the retailer's outside counsel was retained to look into anti-corruption policies and operations in Brazil and China, as well as Mexico.
In a letter to Wal-Mart (WMT, Fortune 500) Chief Executive Michael Duke dated Tuesday, the congressmen also said the attorneys recommended that the probe be expanded to include operations in India and South Africa.
Wal-Mart spokesman David Tovar, in response to questions about the letter, said his company has expanded the review of its anti-corruption program that began in March 2011.
"They list five [countries,]" said Tovar. "We're looking at every country in which we operate."
The investigation stems from allegations that Eduardo Castro-Wright, the former CEO of Wal-Mart de Mexico and former head of Wal-Mart U.S., orchestrated $24 million worth of alleged bribes in Mexico to streamline construction projects, dating from 2005.
The letter blasted Duke for failing to hand over relevant documents and not allowing Wal-Mart employees to brief the committee. In particular, the congressmen want to hear from Maritza Munich, a former general counsel of Wal-Mart's international division, who the committee called "a key figure in the investigation."
"Although you stated during a recent shareholders meeting that Wal-Mart is 'doing everything we can to get to the bottom of the matter,' you have not provided us with the information we requested," wrote the congressmen. "Wal-Mart's actions to date significantly inhibit our ability to investigate these allegations."
The congressmen accuse Wal-Mart of communicating through its lawyers, rather than its officials, in regard to "potential violations of the Foreign Corrupt Practices Act (FCPA)."
But Wal-Mart's Tovar said his company has, in fact, been cooperating with Congress as it investigates the world's largest retailer's compliance with the international corruption law.
"We take compliance with the FCPA very seriously," said Tovar. "We're cooperating with the ongoing investigation and we'll continue to assist the congressional investigation."
-- CNNMoney's Parija Kavilanz contributed to this story