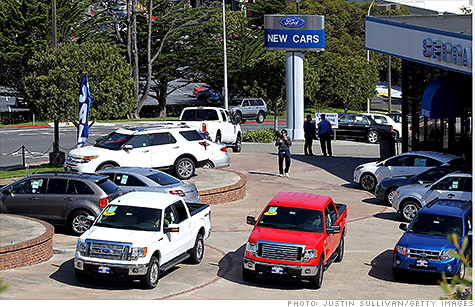 Car sales by U.S. companies were up in June, showing year-over-year improvement in the number of vehicles sold.
NEW YORK (CNNMoney) -- U.S. automakers reported strong sales in June, with each beating sales they reported a year ago.
Chrysler, Ford and General Motors sold 601,320 vehicles last month, up 14% from June 2011.
Automakers are on pace to end the year with 14.4 million vehicles sold, according to TrueCar, which tracks industry data. The estimate is in line with previous expectations.
TrueCar senior analyst Kristen Andersson explained the growth, saying consumers who held back from buying cars during the Great Recession are heading back to car dealerships. Automakers are still benefiting from that pent up demand, she said.
Also contributing to that growth is the Federal Reserve, which keeps interest rates low and makes car loans more attractive, Andersson explained.
"Despite the fact that there's a lot of economic uncertainty, automotive sales seem to be a bright spot," Andersson said. "It's just a slow and steady race, and car sales are continuing at a healthy pace."
The biggest gains went to Chrysler, which reported a 20% jump in auto sales with 144,811 vehicles sold last month. That marked the company's best June sales since 2007.
General Motors (GM, Fortune 500) posted the second strongest figures. Its sales grew by 16%, with 248,750 vehicles sold. The Detroit-based company said June showed the highest monthly sales since 2008, when gas prices skyrocketed and its auto sales plummeted.
GM's Buick brand showed the strongest growth, with sales jumping by 27% compared to a year ago.
Ford's (F, Fortune 500) 7% sales increase was the weakest of the three U.S. automakers, with 207,759 vehicles sold. SUVs continued to prove popular among Ford buyers, with sales of its Explorer and Flex models each growing 34%.
Ford reported its F-series pickup trucks remained the country's number one selling vehicle in the first six months of the year.
Shares of Ford and GM were higher on the positive news. Ford gained 3% and GM climbed more than 6%.
Meanwhile Toyota (TM) posted figures showing it outpaced all three U.S. manufacturers, with 177,795 vehicles sold last month, more than 60% higher than in June 2011 when it was still recovering from the tsunami that knocked out much of its production capacity.