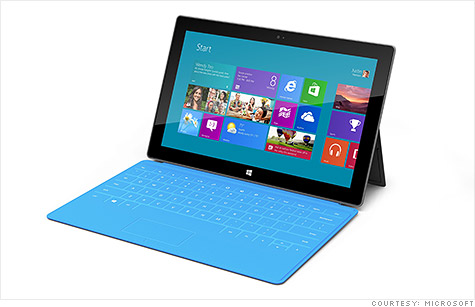 Microsoft's Surface tablet and Windows 8 will both go on sale by the end of October.
NEW YORK (CNNMoney) -- Microsoft's first tablet PC and its biggest update to Windows in nearly two decades are less than four months away from going on sale to the public.
The software giant announced Monday that Windows 8 will hit store shelves by the end of October. Surface, the tablet that Microsoft designed in-house, will also go on sale when Windows 8 is released.
Windows 8 reimagines the PC operating system by switching its focus away from the desktop and toward a touch-enabled start screen. With its "Metro-style" interface, the Windows 8 start screen features apps with large, interactive, "live" tiles; ultra-simple navigation; and instinctive commands.
Microsoft (MSFT, Fortune 500) still hasn't announced pricing for Windows 8 or Surface, but the company last week said that PC users running Windows XP, Vista or 7 can upgrade to Windows 8 for $40 during a promotion that lasts until the end of January 2013. People who buy Windows 7 PCs between now and January can upgrade to Windows 8 for $15.
Windows 8 will come in three varieties for consumers: Windows 8, Windows 8 Pro and Windows RT.
The first two versions support all the desktop apps that run on Windows 7, and the "Pro" version comes with some advanced features, such as remote desktop support. Both run on processors designed or licensed by Intel (INTC, Fortune 500).
Windows RT runs on power-sipping microchips designed by ARM (ARMH), which are prevalent in most tablets and smartphones today. But Windows RT does not support any desktop apps that run on Windows 7 other than Microsoft Office.
The new Windows app store plans to feature Metro versions of many popular apps that run on Windows 7 today, including rival browsers like Google (GOOG, Fortune 500) Chrome and Mozilla's Firefox. But it won't have anything close to the 225,000 apps specifically designed for Apple's iPad, or even the thousands of apps available for tablets running Google's Android.
Microsoft is also remaining mum on the Surface's cost.
The company said at the tablet's launch event in June that a Windows RT version of Surface will be priced comparably to the iPad, which starts at $499. The fuller Windows 8 Pro version of Surface is expected to cost about the same as an ultrabook, which tend to be priced at around $1,000.
Ultrabooks will support many of the touch-sensitive features for Windows 8. Many will come with touchscreens, and some will support touch gestures unique to Windows 8, including swiping in from the four sides of the screen to launch features like the computer's settings, previously viewed apps and the home screen.
Intel is expected to unveil Windows 8-ready ultrabooks at an event in New York on Tuesday.