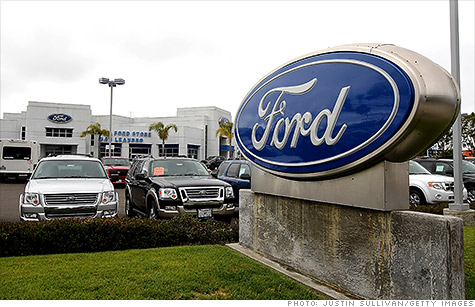 The European debt crisis continued to weigh on Ford in the second quarter, but strong sales in the U.S. led the company to beat analyst earnings' expectations.
NEW YORK (CNNMoney) -- Ford Motor's second-quarter profit was weighed down by the economic crisis in Europe, but a persistent rebound in U.S. car sales helped the company top analysts' earnings forecasts.
Ford (F, Fortune 500) said Wednesday that net income dropped 57% to $1 billion, or 26 cents a share, from $2.4 billion, or 59 cents, in the second quarter of last year.
On an operating basis, Ford earned 30 cents a share in the latest quarter, topping the 29-cent consensus forecast of analysts surveyed by Briefing.com.
The decline in Europe erased gains in North America, as Ford reported a $404 million loss in pre-tax operating profit on the continent. Last year, Ford reported a $176 million pre-tax operating profit gain in Europe.
And the company doesn't expect the situation to improve. It said it now expects its full-year loss in Europe to exceed $1 billion.
Ford's core North American auto unit posted a pre-tax operating profit exceeded $2 billion, up from $1.9 billion last year.
Last month, the company warned that second-quarter results would be hurt by larger losses in its European unit due to conditions that have "deteriorated significantly." Ford said the problem would continue for the "foreseeable future."

The ongoing sovereign debt crisis that has thrown much of Europe into a recession has dragged auto sales down overseas just as they're rebounding in the United States.
U.S. auto sales soared 15% year-over-year in the first half of 2012, according to sales tracker Autodata. But sales in Western Europe fell 4.2%, according to figures from LMC Automotive.

The company said that the challenges it faces in Europe are "more structural than cyclical in nature," meaning that it will have to reevaluate how it does business in the region in order "to achieve profitability and to generate an appropriate return on investments."
Europeans are on pace to buy nearly 1 million fewer cars and light trucks than Americans this year, forcing Ford to adjust to the diminishing demand in the years to come.

"It's not going to come back fast," said Bob Shanks, Ford executive vice president and chief financial officer, on a conference call. "We will bring the production down because the demand is not there."
Ford shares were down 1% in Wednesday trading.