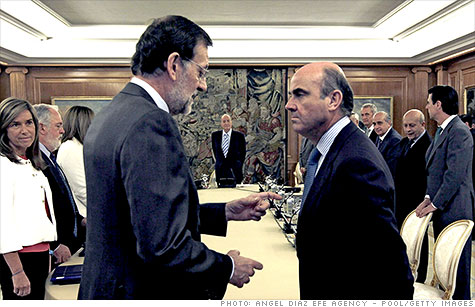 Spanish Prime Minister Mariano Rajoy and Minister of Economy Luis de Guindos at a meeting in Madrid earlier this month.
NEW YORK (CNNMoney) -- Spain appears to have crossed a red line in the bond market, where investors are increasingly convinced that the government will need to be bailed out.
The yield on 10-year Spanish bonds rose to a euro-era record of 7.565% Monday, as demand for the government's debt has all but evaporated. At that level, Madrid's borrowing costs are now firmly above the 7% threshold widely considered unsustainable.
"Those levels indicate that Spain may soon struggle to fund itself in the market," said Gary Jenkins, a fixed-income analyst at Swordfish Research. "And therefore, unless some positive action is taken, the country will need a full bailout."
Spain requested up to €100 billion in bailout funds to recapitalize the nation's banking sector in the wake of a major property bust. Eurozone finance ministers agreed last week on the terms of that loan agreement, but it remains unclear whether the cost will fall on the government or not.
Analysts say bailout funds cannot be injected directly into Spanish banks until a eurozone-wide banking authority is established -- a process that could take months, if not years. In the meantime, the loans could end up adding to the debts of the Spanish government, which is already struggling to reduce its deficits.
In addition, investors are concerned that the central government in Spain will be on the hook for the debts of several regional governments. On Friday, Valencia, one of Spain's semi-autonomous regions, requested such a bailout.
Investors fear that up to six other regional governments, including Catalonia, could make similar requests for aid. That could severely tax the €18 billion bailout fund Spain set up to help the regions.
Spanish economy minister Luis de Guindos reiterated Monday that the government would not need a full-blown bailout.
The crisis in Spain rattled investors around the world. Stocks in London (UKX), Frankfurt (DAX) and Paris (CAC40) tumbled between 2% and 3%. U.S. markets fell about 1.5% in afternoon trading.
"It is serious crisis time again in the euro area," said Tobias Blattner, an economist at Daiwa Capital Markets in London.
Meanwhile, the Bank of Spain said Monday it expects economic activity in the second quarter to be weaker than expected.
In its July economic bulletin, the central bank said the latest data suggest gross domestic product will fall 0.4%. That would be the third straight quarter of contraction. On an annual basis, the Spanish economy is expected to shrink 1% in the second quarter.
Unemployment in Spain, which rose to nearly 25% in the first quarter, will likely continue to increase, according to the report.
The gloomy outlook comes shortly after Spain announced another round of austerity measures. Spanish Prime Minister Mariano Rajoy said July 11 the country would cut €65 billion from the budget in three years by raising taxes and shrinking bureaucracy.
Despite the cost cutting, the Spanish government struggled to sell €2.98 billion worth of two-, five- and seven-year notes at an auction last Thursday.
Spanish banks had been the main buyers of Madrid's debt as foreign investors have long-since absconded. But the lackluster auction last week raised concerns that even domestic banks are unwilling or unable to finance the government.
Spain is scheduled to auction more bonds next week. Madrid needs to issue about €3 billion on average at auction for the rest of the year to meet its €86 billion target, according to research by Nomura Securities.
"In the current market conditions this may prove to be difficult," Nomura analysts wrote in a report.