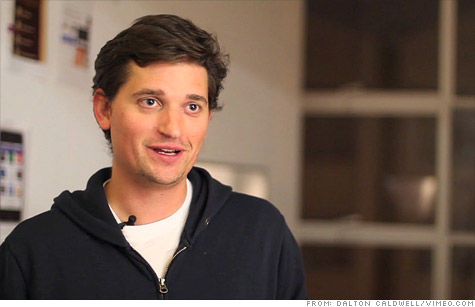 Dalton Caldwell told Facebook he's not interested in being 'acqui-hired' -- a process the company uses to buy startups for their staff and kill off their products.
NEW YORK (CNNMoney) -- Editor's note: An earlier version of this story only featured the opinions of Dalton Caldwell. This story has resonated with many in the tech community, but only including Caldwell's commentary does not meet our editorial standards. We've refocused our reporting on the stir that Caldwell's blog post has caused in Silicon Valley and have included the fact that Facebook declines comment.
A developer who says Facebook tried to buy his startup kicked off a Silicon Valley firestorm this week with a blog post describing the coercive tactics he says Facebook used to pressure a would-be rival.
"Dear Mark Zuckerberg," began the letter App.net founder Dalton Caldwell posted late Wednesday in his blog. "On June 13, 2012, at 4:30 p.m., I attended a meeting at Facebook HQ in Menlo Park, California."
Caldwell went into that meeting expecting to demo a new app he was building on Facebook's platform, which encourages outside developers to tap into Facebook's infrastructure. That's not how things went down, he says.
"The meeting took an odd turn when the individuals in the room explained that the product I was building was competitive with your recently-announced Facebook App Center product," Caldwell wrote in his blog. "Your executives explained to me that they would hate to have to compete with the 'interesting product' I had built, and that since I am a 'nice guy with a good reputation' that they wanted to acquire my company to help build App Center."
Facebook (FB) has a tradition of buying promising startups for their staff -- then killing off the actual products. Its recent portfolio of "acqui-hires," as the practice is called, includes check-in service Gowalla, publishing company Push Pop Press, mobile bookmarking service Spool and mobile app maker Acrylic Software.
Caldwell's complaint is that he thinks Facebook is using its power to push startups into selling with an implicit threat: Sell to us or we'll crush you.
"The execs in the room made clear that the success of my product would be an impediment to your ad revenue financial goals, and thus even offering me the chance to be acquired was a noble and kind move on their part," he wrote in his blog.
Contacted by CNNMoney for a response, Facebook declined to comment on Caldwell's allegations.
Caldwell is a serial entrepreneur who knows something about having your startup acquired and killed off. His first venture, social music sharing service imeem, was acquired by MySpace in late 2009. MySpace shut the service down almost immediately after.
Caldwell's blog post -- part open letter, part manifesto -- quickly went viral in the tech community, sparking dozens of news stories and long discussion threads on sites like Hacker News.
Vic Gundotra, Google's senior vice president of engineering, posted a link to it on his Google+ profile page and offered his own response. He wrote that Caldwell's letter spotlighted some of the reasons Google (GOOG, Fortune 500) hasn't opened its own social platform yet to outside developers.
"I'm not interested in screwing over developers," Gundotra wrote.
One Silicon Valley power player even got caught in the middle. A spokesperson for venture capitalist Marc Andreessen, whose company is an investor in both Facebook and Caldwell's Mixed Media Labs (the firm behind App.net), confirmed that he is resigning his board seat on Caldwell's company to avoid a conflict of interest.
The spokesperson added that Andreessen is keeping his spot on Facebook's board. But another executive at his venture firm, Scott Weiss, will take over his board seat at Caldwell's company..
Caldwell says he knew he'd be kicking the hornet's nest by publicly going after Facebook, but says he has no regrets.
"I picked this battle very carefully," he wrote on Twitter.