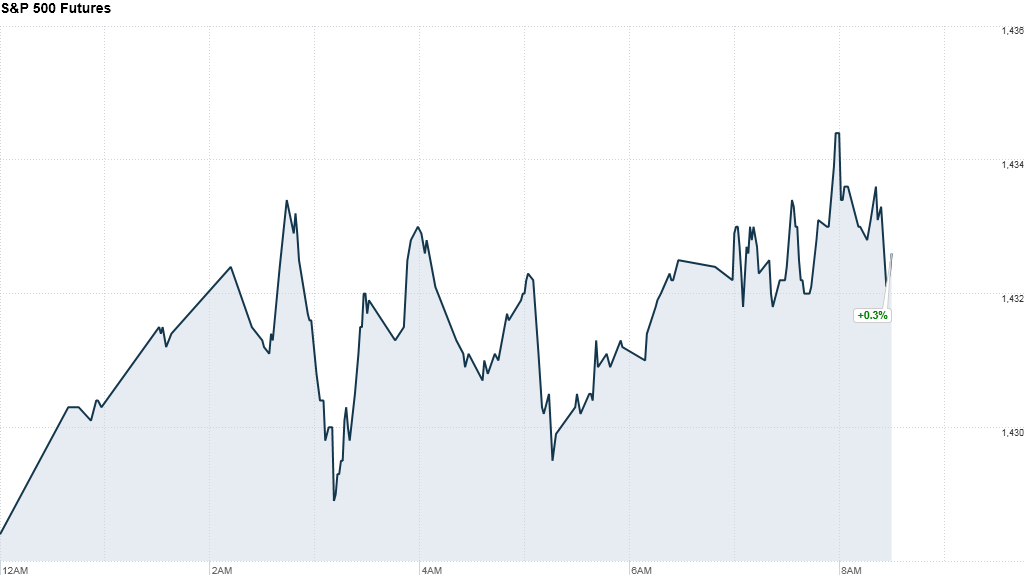 U.S. stocks futures were higher Friday morning after two major banks reported earnings that met or exceeded expectations.
JPMorgan recorded record profits which initially sent the bank's shares higher in premarket trading, but they later turned flat. JPMorgan (JPM) reported quarterly earnings of $1.40 per share on revenue of $25.9 billion, beating expectations on both. CEO Jamie Dimon credited the results by saying that the housing market has "turned the corner."
Investors will be parsing through the report to find additional details about this year's earlier multi-billion-dollar trading loss. The bank's stock price has largely recovered since its London Whale fiasco came to light, but it still hasn't returned to its 2012 peak.
Wells Fargo (WFC) reported earnings of 88 cents per share -- in line with forecasts -- but its revenue of $21.2 billion fell short by almost $300 million. The bank's shares fell 2% in premarket trading.
A report by the Labor Department showed producer prices rose 1.1% in September, higher than anticipated. Government officials attributed much of that to spikes in food and energy prices, noting that excluding those increases the prices of finished goods remained unchanged from the previous month.
The only report left for the day comes at 9:55 a.m. ET, when the University of Michigan will report its Consumer Sentiment Index for October, which likely ticked up to 78.5 from 78.3 the previous month.
U.S. stocks pared earlier gains and ended little changed Thursday afternoon, as enthusiasm over upbeat economic data faded.
European stocks were lower in morning trading. Britain's FTSE 100 fell 0.1%, while the DAX in Germany remained flat. France's CAC 40 fell 0.2%.
In Asia, markets ended mixed as the region struggles with worries about economic growth. In China, where trade and inflation data will be reported in the next three days, the Shanghai Composite edged higher 0.1% and the Hang Seng in Hong Kong rose 0.7%. National officials also guided the yuan much higher versus the dollar following weeks of criticism from President Obama and presidential challenger Mitt Romney.
Meanwhile, Japan's Nikkei fell 0.2% as a few companies weighed down markets there. SoftBank stock fell sharply after it became clear the company is in talks to buy Sprint, the third largest U.S. carrier, for more than $12 billion. Worsening Sino-Japanese relations over an island territorial dispute also continue to harm firms because of actions like China's auto boycott.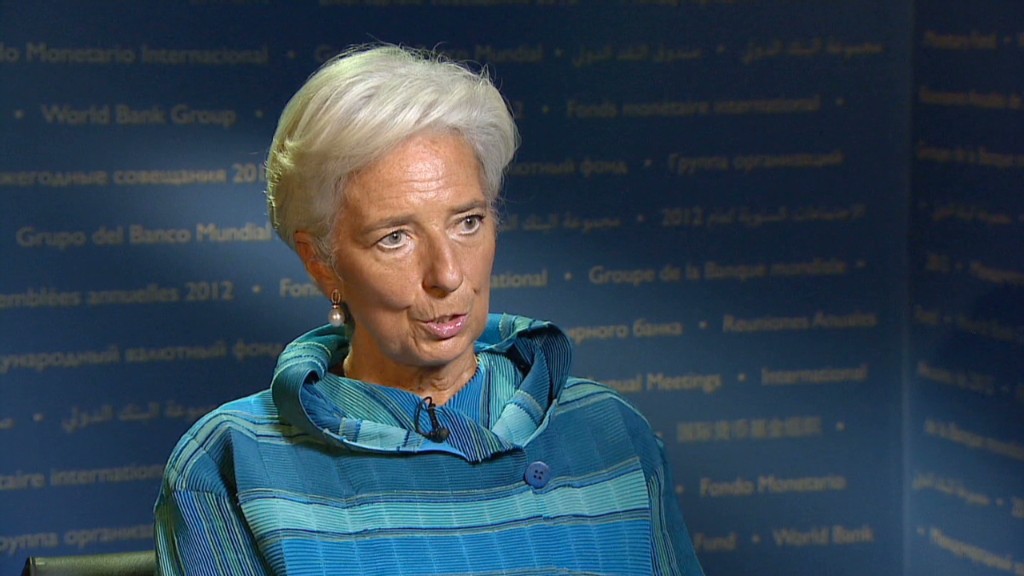 Companies: Shares of AMD (AMD) sank 8% in premarket trading Friday, a day after the chipmaker cut its revenue forecast for the third quarter.
Realogy -- the parent of real estate brokers Century 21, ERA and Coldwell Banker -- began trading on the New York Stock Exchange Thursday under the ticker RLGY. The company priced its IPO at the top end of its estimated range, and shares of Realogy (RLGY) rising 27% from their offering price.
Shares of Shutterstock (SSTK) jumped more than 27% in their market debut Thursday. The online stock photography company also priced its shares above the expected range in its IPO.
Currencies and commodities: The dollar fell against the euro and British pound, but it rose versus the Japanese yen.
Oil for November delivery rose 26 cents cents to $92.33 a barrel.
Gold futures for December delivery rose 30 cents to $1,770.90 an ounce.
Bonds: The price on the benchmark 10-year U.S. Treasury remained little changed, keeping the yield at 1.68% from late Thursday.