A strong jobs report sent stocks higher Friday, capping a weekly gain for the market as investors set aside concerns about the Federal Reserve and focused on the improved outlook for economic growth.
The Dow Jones industrial average, the S&P 500 and the Nasdaq gained about 0.9%. For the week, the Dow and the S&P 500 both rose more than 1.5%, while the Nasdaq gained over 2%.
The government said U.S. payrolls grew by 195,000 jobs in June, more than economists had expected. But the unemployment rate held steady at 7.6%.
Traders said volumes were light Friday since many money managers took the day off. U.S. markets were closed Thursday for the Fourth of July holiday.
Double edged sword. Investors were encouraged to see signs of improvement in the job market, but the report also makes it more likely that the Fed will begin to taper its stimulus policies later this year.
The U.S. central bank has signaled that it will begin to slow the pace of its $85-billion-per-month bond buying program when it sees significant improvement in the unemployment rate.
While the unemployment rate was unchanged last month, economists say the gains in hiring -- including past months that were revised higher -- mean the rate should head lower in the months ahead.
There will be two more reports on the unemployment rate and hiring before the Fed's next scheduled meeting in September.
The June report was "more than strong enough to keep the Fed on track for tapering in September," said Jim O'Sullivan, chief U.S. economist at High Frequency Economics.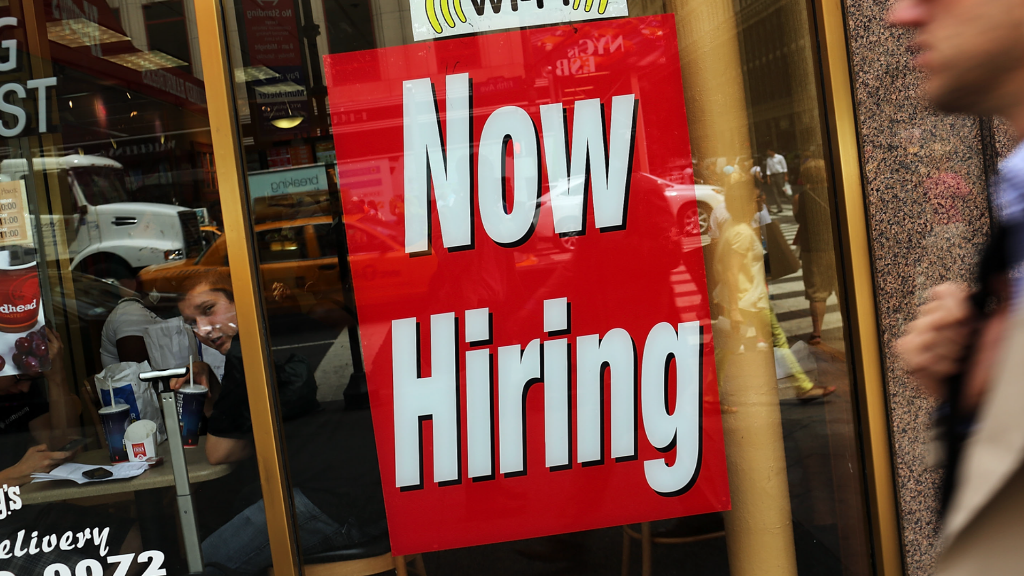 Bond yields spike. Investors in the bond market seemed to view the good news as bad news.
The yield on the 10-year U.S. Treasury note rose to 2.72%, the highest level since August 2011. Investors have been selling bonds, driving yields higher, in anticipation of fewer Fed purchases.
Some economists worry that an abrupt rise in interest rates could hurt the U.S. economy. Mortgage rates have spiked in the past few weeks, raising concerns about the housing market.
Still, the sell-off in Treasuries comes on light volume and may be an overreaction, said Kevin Giddis, head of fixed-income at Raymond James.
"I would caution against putting too much into today's move on the Treasury market," said Giddis. But he added that interest rates are headed higher as the Fed moves away from quantitative easing, as its bond buying program is known, later this year.
"I do believe that we have set sail on an upward trend of interest rates that will likely lead to the Fed's tapering of QE in September or October," said Giddis.
What's next. In the long run, any tapering by the Fed would reflect an improved outlook for the economy and should bode well for stocks. But traders say volatility will remain high in the short run as the Fed's next move remains uncertain.
"We're going through a transition from a liquidity-driven equity market to a market more driven by economic and corporate fundamentals," said Bernard Kavanagh, vice president of portfolio management at Stifel Nicolaus.
In the currency market, the U.S. dollar rose versus its main trading partners. The greenback has been strong recently as investors bet the U.S. economy will grow faster than most other developed economies.
What's moving. Gold prices fell 3%, to $1,214.50 an ounce. That put pressure on shares of Newmont Mining (NEM), which sank 4%.
Shares of large homebuilders were under pressure as investors worry that higher mortgage rates will cool the housing market. Lennar (LEN) and D.R. Horton (DHI) fell more than 3%.
Meanwhile, shares of regional banks, which are expected to benefit from rising interest rates, rallied. Lincoln National (LNC), KeyCorp (KEY), SunTrust (STI) and Comerica (CMA) all gained more than 3%.
Mixed news overseas. Europe got a boost Thursday when the region's central banks signaled that interest rates would remain at unusually low levels for an extended period of time. But European markets gave back some gains Friday. The DAX in Germany fell 2.3%.
Investors also monitored the political turmoil in Egypt, which has sent oil prices higher in the past few days, and in Portugal, where leaders are trying to prevent a government collapse that would undermine its 78-billion euro bailout.
Asian markets ended with gains. The Hang Seng index and the Nikkei in Japan both ran up by roughly 2%.