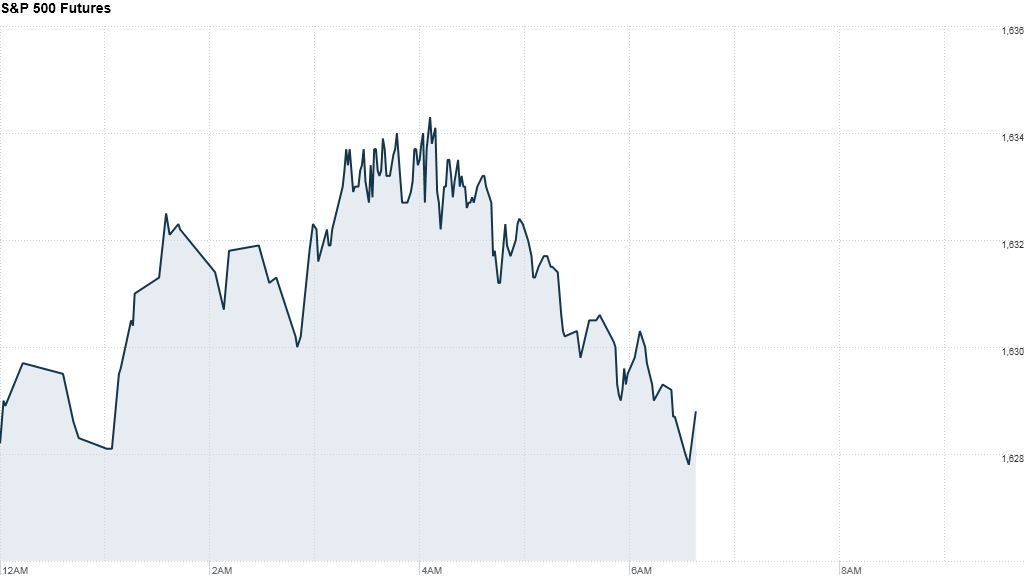 It looks like U.S. stocks could pop up at the opening bell, even as uncertainty roils markets around the world and investors fret over the potential consequences of a U.S.-led military strike on Syria.
U.S. stock futures were edging up by roughly 0.1% Wednesday, regaining some poise after Tuesday's sharp fall in reaction to a potential strike on Syria.
The world seems increasingly convinced that the U.S. -- and its allies -- will make a military strike against Syrian government forces in the coming days. U.S. officials report that Syrian forces used chemical weapons to attack innocent people.
"Those who use chemical weapons against defenseless men, women and children should and must be held accountable," said Vice President Joe Biden in a speech to the American Legion.
U.S. stocks fell sharply Tuesday, with the Dow Jones Industrial Average and the S&P 500 tumbling by more than 1% while the Nasdaq dropped by just over 2%.
World markets also tumbled Tuesday, and were still falling Wednesday.
European markets were in negative territory in midday trading, while Asian markets ended in the red. Both Japan's Nikkei and Hong Kong's Hang Seng fell by as much as 1.6%. The Shanghai Composite was relatively unchanged.
Amid fears that an attack on Syria could destabilize the region, several Israeli companies suffered in U.S. premarket trading. Among them were telecommunications firms AudioCodes (AUDC), Internet Gold Golden Lines (IGLD) and Partner Communications (PTNR). Also trading lower were markets in Turkey and Israel, including the Borsa Istanbul National 100 Index and the Tel-Aviv Stock Exchange.
In India, the rupee extended losses to another record low on Wednesday as investors continued to pull money out of the country. India is a big importer of oil and rising prices will further strain the country's finances.