Investors just couldn't keep that loving feeling going at the end of the week, and techs bore the brunt of the cooling off.
The Nasdaq dropped 1.75%, while the Dow fell 140 points and the S&P 500 also ended lower. The sell-off came as investors questioned whether key companies like Amazon (AMZN) are growing at the pace Wall Street likes to see. There were also renewed concerns about turmoil in Ukraine.
The major indexes gave up gains from earlier in the week and ended the week with losses. It was the eighth straight week that the S&P 500 alternated between weekly gains and losses, according to Ryan Detrick, a strategist at Schaeffer's Investment Research. Call it the "Spring Swivel".
The latest reading on CNNMoney's Fear & Greed index shows sentiment is still languishing in "fear" mode.
Related: Fear & Greed Index still gripped by fear
Amazon (AMZN) reported better-than-expected earnings and revenue Thursday, but shares plunged almost 10% as worries about rising costs at the tech giant surfaced. The stock was the biggest loser on CNNMoney's Tech 30 Index, which was down 4% Friday.
"$AMZN It's simple, when you run out of ways to increase your margin and make a profit, you distract people. drones, movies, phones, promises," said Caviar on StockTwits.
But another StockTwits trader wasn't fretting the Amazon drama.
"$AMZN awesome, hope to get this at a bargain price maybe in a couple weeks," said zv2013.
Related: S&P cuts Russia's credit rating
Microsoft (MSFT) was one of the few tech stocks that edged out a win Friday after the company reported first-quarter sales that exceeded analysts' expectations. It also announced the completion of its deal with Nokia, complete with a slightly awkward photo of CEO Satya Nadella and executive Stephen Elop walking and talking in a mountainous setting while Elop holds a Nokia phone.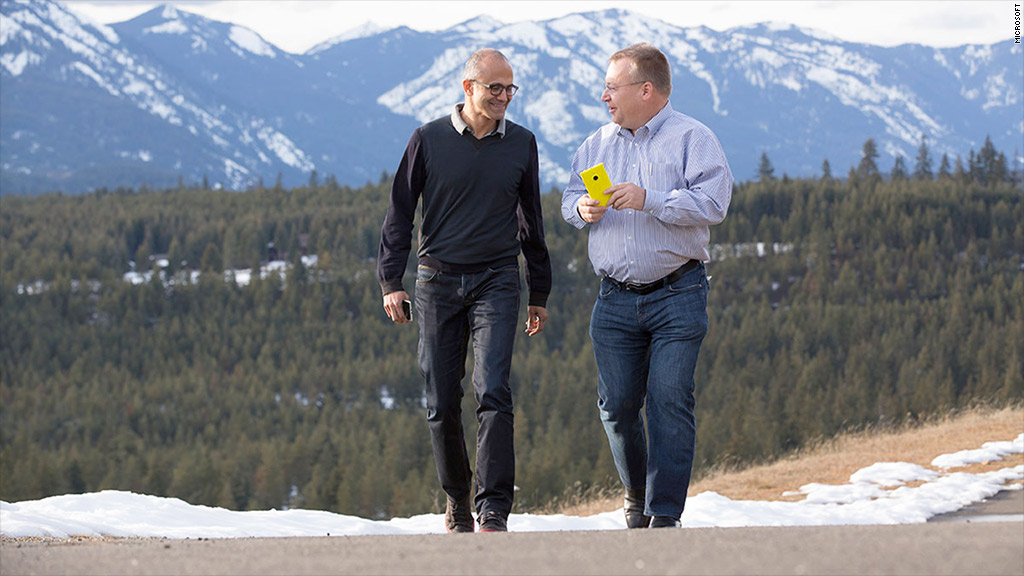 "$MSFT New CEO, new management, new devices+services strategy....Now we'll see some real momentum! #MSFTjustgotsexy," said StockTwits trader lcc007.
Ford (F)shares fell over 3% after the automaker reported its first quarterly earnings decline since 2012. Profits also were below analysts' estimates.
But Stocktwits trader Circpunk thought Ford deserved some credit.
"$F It takes time to rebalance and refocus. They're doing an outstanding job running this company. This is old school competence," he said.
Shares of Dow component Visa (V) tumbled 5% after the credit card giant missed revenue forecasts.
Starbucks (SBUX) rose after reporting a gain in sales and earnings. There also have been rumors that it is considering buying a stake in SodaStream. Shares of SodaStream (SODA) have rallied sharply this week on that speculation.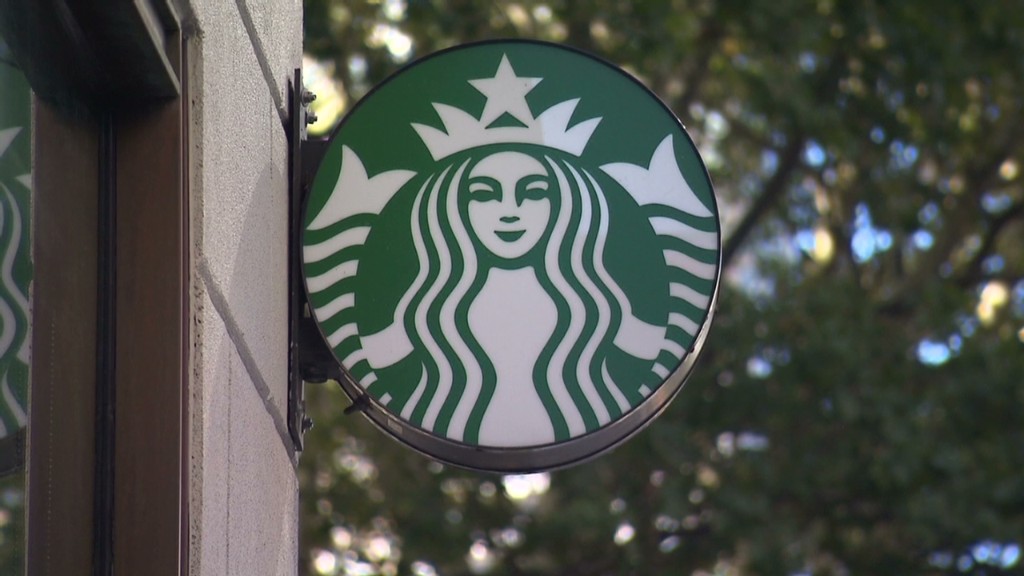 Burger King (BKW) got a boost after its earnings report barely topped estimates, but that was a better story than McDonald's (MCD) had when it reported its quarterly results earlier in the week.
Shares of athletic apparel maker Under Armour (UA) sank for a second straight day even though the company reported strong earnings Thursday and is on the verge of being added to the S&P 500 index.
In geopolitical news, senior government officials told CNN that the U.S. could impose new sanctions on Russia for failing to take steps to reduce the tension in eastern Ukraine. Sanctions would target key allies of Russian President Vladimir Putin, high-profile oligarchs and possibly companies.
Even without additional sanctions, Russia is struggling economically. Standard & Poor's downgraded Russia's credit rating to one step above junk status, and the country was forced to raise its interest rate from 7 to 7.5% since its currency is dropping sharply. This was the second increase in two months.
Related: 3 risks from the Ukraine crisis
European indexes finished mostly lower, with Germany's DAX falling 1.5%. Germany is Russia's largest trading partner in Europe. New sanctions would hurt both economies.
Most major Asian markets finished the day down as well.