Wall Street celebrated the unofficial start of summer with a sizzling performance.
Stocks raced to all-time highs on Tuesday as investors cheered positive economic reports in the U.S. and a wave of buying in Europe over the long weekend.
The Dow Jones industrial average and S&P 500 closed solidly higher while the Nasdaq rallied over 1.2%. U.S. markets were closed on Monday in observance of Memorial Day.
Here are four things you need to know today:
1. S&P 500 soars above 1,911: The optimistic sentiment carried the S&P 500 further into record territory and above the psychologically-important 1,900 level. It closed at 1,911.9. This marks the 12th record close of the year for the broad average, which ended at a previous all-time high of 1,900.5 on Friday.
The Dow is now within striking distance of its record closing high of 16,715.4 that was set earlier this month, although it closed about 40 points below that level.
The Nasdaq continues its May bounce back, closing at its highest level since early April. That said, the index is still about 20% lower than its dotcom era records.
This week should feature a lot of "catch up" as traders return from the long weekend and realize "they need to hop on or underneath the train before it leaves the station," Michael Block, chief strategist at Rhino Trading Partners, said in a note.
It's worth noting that Tuesday's rally was backed by relatively low trading volume, likely a reflection of some traders choosing to stay on the beach.
2. Movers & shakers -- Hillshire Brands, InterContinental Hotels, AstraZeneca, Bank of America: It was quite the meat market today in some senses.
Shares of Hillshire Brands (HSH) popped 22% after Pilgrim's Pride (PPC) offered to acquire the food maker for about $6.4 billion. That offer complicates Hillshire's $4.3 billion proposed buyout of Pinnacle Foods (PF). Investors gobbled up shares of other companies in the sector, including Tyson Foods (TSN), which rallied 4.5% on the deal news and a positive mention in Barron's over the weekend.
Related: Hillshire shares surge after Pilgrim's takeover bid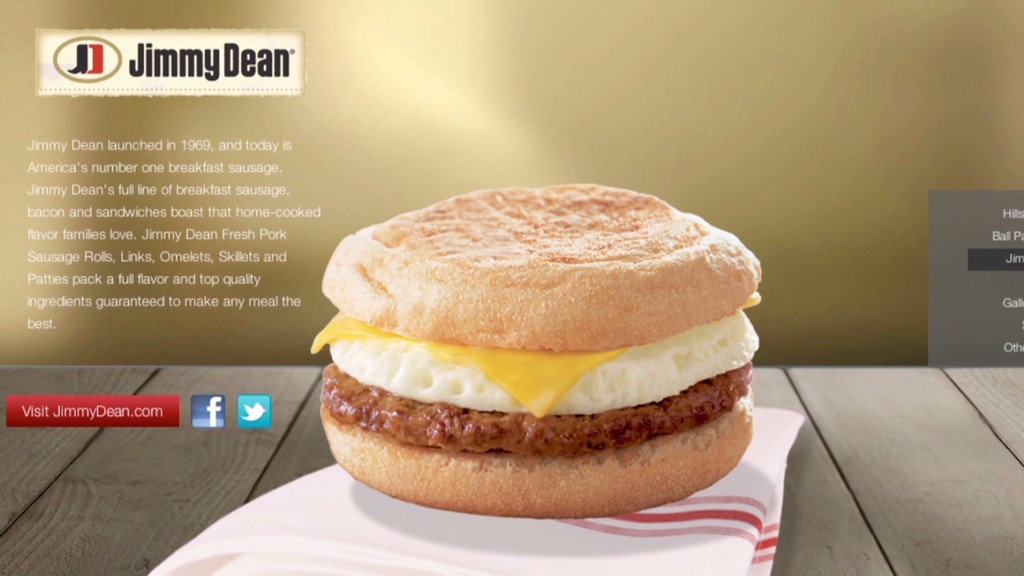 Bank of America (BAC) bounced 3.4% after resubmitting a capital plan to the Federal Reserve. The bank admitted a calculation mistake that made its prior plan unusable. BofA said the new request is smaller than the previous one.
"$BAC So basically $BAC resubmitted the homework it failed to follow directions on... and that's a 4% day?" StockTwits user PSTRADER said.
Investors showed some renewed love for tech stocks, pouring more cash into the Nasdaq than the broader markets. Some of the day's big winners include Priceline (PCLN), Expedia (EXPE), Facebook (FB). and Apple (AAPL).
Related: Whole Foods stock is rotting away
Shares of InterContinental Hotels (IHG) rose 3% after Sky News reported the hotel chain rejected a secret £6 billion ($10 billion) bid by a U.S. suitor. The company declined to comment on the report.
AstraZeneca (AZN) inched lower as investors reacted to Pfizer's (PFE) confirmation that it would no longer pursue a mega-takeover of the British drugmaker.
Related: Fear & Greed Index sinks into extreme fear
3. Economic indicators positive: Consumers are starting to feel a little more optimistic about the economy. The Conference Board's index on consumer confidence increased to 83 in May, up from 81.7 in April.
The government said U.S. orders for big ticket items like appliances grew 0.8% in April, slowing down from March's healthy pace but beating expectations for a narrow decline in durable goods orders.
U.S. home prices in 20 cities rose 0.9% in March from February, according to S&P/Case Shiller. That trumped forecasts for a more modest increase.
4. International movement: European markets had an eventful session Monday -- with some key markets up by over 1%. They were still positive Tuesday, but less enthusiastic.
Investors brushed off European Union election results that showed far-right and far-left parties had gained additional traction. A majority of voters still supported traditional parties in the European Parliament.
Investors were also pleased that Ukrainian elections were completed without too many complications.
European markets have also been boosted by dovish hints emerging from the European Central Bank, which may be poised to inject new stimulus measures when it meets next month.
Asian markets were mixed Tuesday. The Nikkei closed higher, but many other indexes were down.