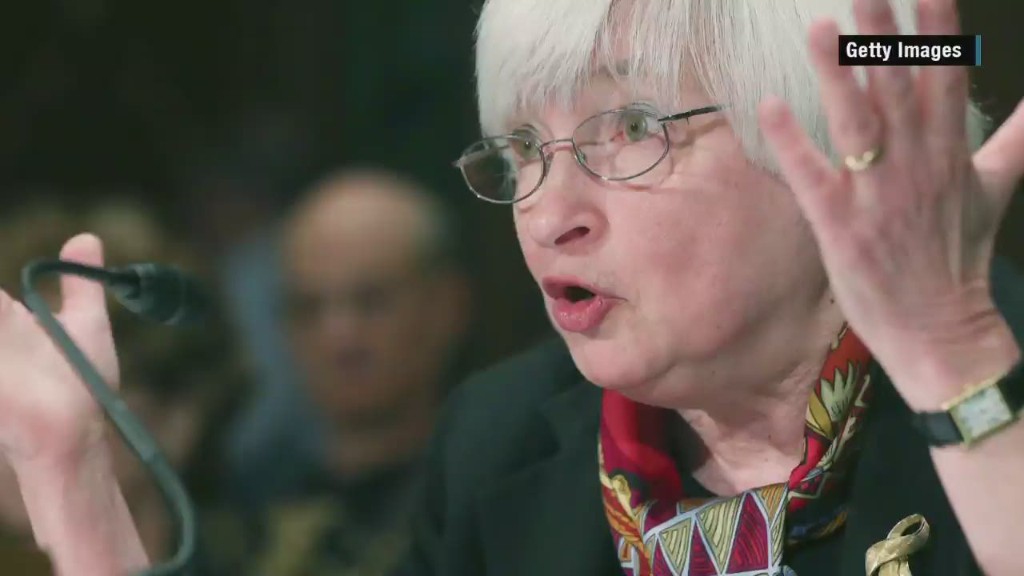 Patient means someone who is "able to accept or tolerate delays," according to Google.
Wall Street loves that the Federal Reserve has been patient in raising interest rates. Shortly after the financial crisis, the Fed put in place near-zero interest rates. They haven't touched them since.
The low rates have been a driving force behind the roughly 200% rise in stocks since early March 2009, but the low rate party is about to come to an end. The question is just when.
The Fed meets Tuesday and Wednesday. All eyes will be on whether one critical word -- patient -- is removed from the official policy statement. Deleting "patient" opens the door for the Fed to raise interest rates in June, earlier than some hoped.
Market reaction: Expect the stock market to be jittery as investors adjust to the new world order. It's one thing to know that a rate hike is coming at some point. It's another matter to have a date -- June -- on the table.
The timing of this Fed statement is not ideal: Three of the past six days, the Dow tanked. Some say the market's latest roller coaster routine is due to the Fed not being clear enough about its intentions.
"That's part of the uncertainty: the market doesn't know exactly what the Fed is waiting for" to change their language, says John Canally, chief economist at LPL Financial in Boston.
Related: Stock market tanks as oil dives to $45 a barrel
It sounds crazy to obsess over one word, but the markets can go nuts if the Fed changes their statement. When the central bank added "patient" to its statement about a rate hike on Dec. 17, the Dow had one of its best days last year.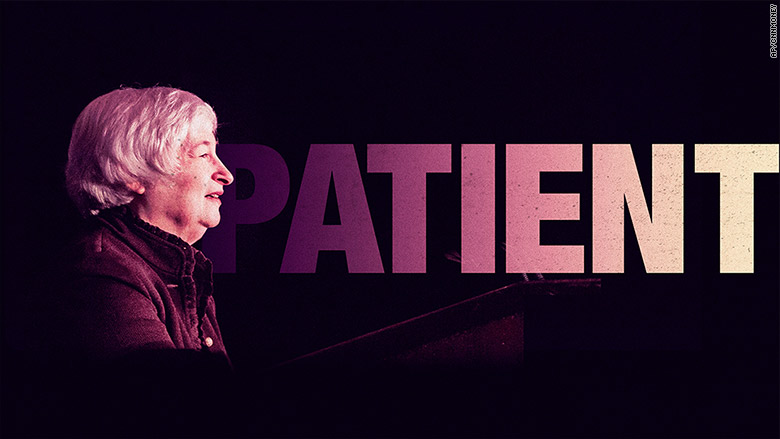 The exact line was: "The Committee judges that it can be patient in beginning to normalize the stance of monetary policy." That was widely interpreted as an indication that the Fed wouldn't raise rates for several months.
If the Fed removes "patient" this week, it has big implications for Wall Street, Main Street and everyone overseas. Here's a look at who wins and loses:
Related: Stop crying about Fed rate hikes!
A win for Main Street America: If the Fed changes its wording, it would show that Fed Chair Janet Yellen and the committee members are feeling increasingly confident about the economy's health. The job market is on a tear, adding over 200,000 jobs a month for the last 12 months.
The unemployment rate has fallen to 5.5%, and employers say they are having to compete a lot for job applicants now --that's a night-and-day change from 2008 when jobs were scarce and the Fed put rates next to zero.
Raising interest rates would be the Fed's long-awaited two thumbs up for the economy. It would also give people who save a much needed boost to the interest they earn at the bank.
But there is a catch: wage growth is still sluggish for many workers, and there's concern that a rate hike would hurt any future growth. Wages are a central point to the Fed's debate on when to raise rates, but some outside the bank argue it shouldn't wait to see them grow before pulling the rate trigger.
Related: 3% raises are (likely) back in 2015
Tough for Corporate America: Wall Street sees a rate hike like teenagers see the cops breaking up their party. The bull market just turned six years old, one of the longest in U.S. history, and experts believe a rate hike will blow out the candles after years of record corporate profits.
Stocks are already expensive and many investors anticipate the market will have a correction this year (that's when they drop by 10% or more). A rate hike could tame the markets even more.
Pay attention to how the S&P 500 and other markets react Wednesday when Yellen has her press conference. Despite her monotone voice, Yellen's comments almost always cause a stir among investors.
According to S&P Capital IQ, history shows that over 80% of the time the Fed has raised rates, the markets fell in the six months after. Sometimes it was a large fall and sometimes a modest one, but it certainly increased worries.
Related: New York Times tells Fed: wait on rate hike
Toss up for the world: U.S. interest rates impact all global markets. Foreign market surged when the Fed added "patient" to its statement in December. Japan's Nikkei (N225) index, Germany's DAX (DAX) index and Britain's FTSE 100 (UKX) all rallied over 2% after the Fed's announcement.
If the Fed removes "patient" on Wednesday and sends that strong signal about an interest rate increase, many foreign markets could wobble as well. The U.S. is the brightest economy in the world right now. There may be concern that an interest rate hike could slow that growth for awhile, even if it's ultimately a good thing.
That said, American investors have been steadily sending money abroad, especially to Europe and Asia as they look for bargain buys. The European Central Bank is also doing its own stimulus program, which investors have welcomed. So any blip may be short lived.