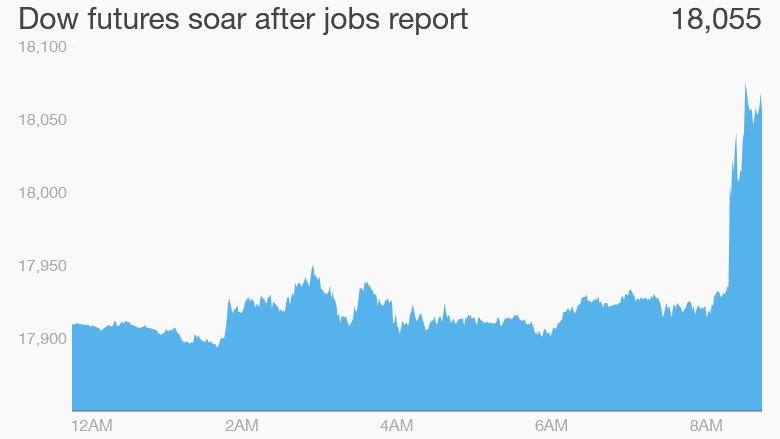 Hold onto your hat! It's going to be a big day.
Here are the five things you need to know before the opening bell rings in New York:
1. Ready for the jobs report: The U.S. Bureau of Labor Statistics released its highly anticipated monthly jobs report this morning, showing the economy created 223,000 jobs in April. That pushed the unemployment rate down to 5.4% from 5.5%.
The results were roughly in line with expectations, but investors loved it. Dow futures are soaring. All the major indexes are set to open up close to 1%.
In March, the economy added only 85,000, which was well below expectations. The latest report calms fears of a U.S. slowdown.
Related: U.S. unemployment falls to 7-year low
2. Markets jump after U.K. election: U.K. investors are celebrating a surprise election win for Prime Minister David Cameron.
London's benchmark index, the FTSE 100, rallied by 2% when markets opened. The FTSE 250, which tracks many mid-sized British companies, surged by just over 3%.
The British currency and bond markets are also rising as investors express relief that a contentious result has been avoided. The polls had been inconclusive in the lead-up to the election.
"For investors, a clear victor removes a tremendous amount of uncertainty in the near-term over the ability of the government to govern and legislate," explained Azad Zangana, senior European economist at Schroders.
European stock markets are also rising, though the gains are not as big.
Related: Investors cheer election win for David Cameron
3. China stocks: Chinese investors have been shaken from their state of prolonged euphoria this week as major stock markets have stumbled.
The main Chinese indexes closed the day with gains. But if you look at the week as a whole, the benchmark Shanghai Composite index is down by about 5%. The Hang Seng in Hong Kong also dipped by 2% this week.
For investors, the pullback is a major reality check. The Shanghai stock market has more than doubled over the past 16 months to its highest levels in six years.
Related: Chinese investors trade way more often than Americans
4. Market movers - Salesforce.com, Nokia and AOL: Shares in Salesforce.com (CRM) are slipping by about 3% premarket. The stock surged earlier this week based on a report from Bloomberg saying Microsoft (MSFT) was considering a bid for the company.
Shares in Nokia (NOK) are jumping by 3% in Finland after the New York Times reported that Uber submitted a multibillion-dollar bid to buy the company's mapping business. Neither company would comment on the report.
Shares in AOL (AOL) could be on the move after the company reports its latest earnings results ahead of the open.
5. Thursday market recap: The Dow Jones industrial average jumped by 82 points, while the S&P 500 rose 0.4% and the Nasdaq closed with a 0.5% gain.