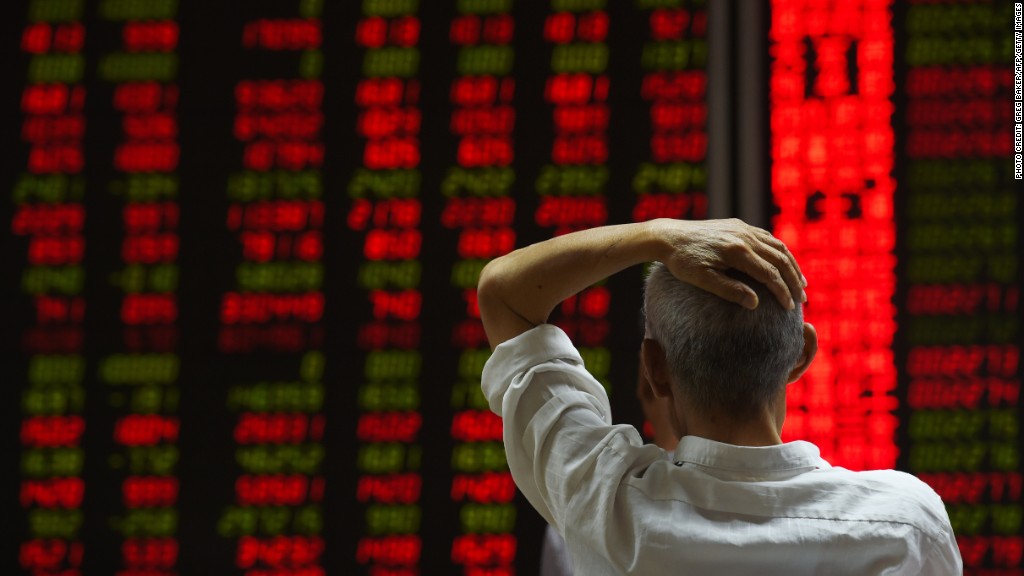 Get ready for a rampage in markets on Monday.
Massive market selloff at the open: Click here for the latest
U.S. stock futures were plummeting as worries about China continue to fuel a global sell off.
Nasdaq futures are down 5%, with Dow and S&P futures both around 4% lower.
Here are the five things you need to know before the opening bell rings in New York:
Related: World markets plunge as sell off continues
1. China -- no intervention, more losses: The Shanghai Composite closed 8.5% down, wiping out all gains made so far this year. It has now fallen nearly 38% since its June peak. China's smaller Shenzhen Composite lost 7.7%.
Traders were hoping Chinese authorities would step in over the weekend to support the markets. "Unfortunately, there was nothing but disappointment and trader's angst turned into anger this morning and they decided to liquidate their positions," said Naeem Aslam, chief market analyst at Ava Capital Markets.
2. Stock market movers -- Apple, Netflix suffer: Many U.S. stocks look poised to start the week deep in the red.
Apple (AAPL) is down more than 4% in premarket trading, while Netflix (NFLX) is down more nearly 7%. Facebook (FB) is trading about 4% lower.
Bank of America (BAC) has also suffered losses, trading 4% down in premarkets, and other financial stocks are under pressure.
3. Oil hits new 6-year low: Oil plunged 3.5% on Monday to briefly trade below $39 a barrel for the first time since 2009.
Natural gas and gold are also down. Cheap oil and other commodities are weighing heavily on many emerging markets, with Russia, Brazil, and Venezuela among the biggest losers.
4. International markets plunge: All major European markets opened down on Monday. London's FTSE 100 plunged 3% after entering correction territory last week. The FTSE is weighted toward resource companies and has been hit by the slowdown in demand from China.
Germany's DAX also fell 3%. China is a crucial market for its automakers.
And it was all misery for other Asian markets again, with all major regional indexes closing in the red. Tokyo's Nikkei ended the session 4.6% down.
Related: China's stock crash ... in 2 minutes
5. Friday market recap: The stock market took a dramatic plunge Friday. The Dow Jones industrial average closed out its worst week since 2011, losing a staggering 531 points, or more than 3% on Friday alone. The S&P 500 also dived 3%, and the Nasdaq shed 3.5%.
Why the drop? Investors are shaken by concerns about China's economy, a rate hike from the Fed and falling oil prices.