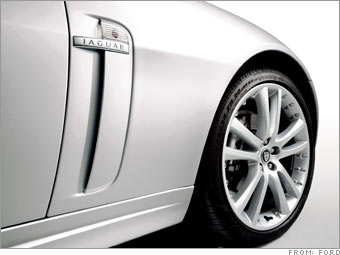 After walking the length and width of the NAIAS show floor at least 50 times over 3 days, what may be the next big trend slowly took shape before my eyes.
What to do? Walk the floor for the 51st time and report the results.
The next big thing? Fender vents. Yes, I know, big, bad versions have graced the fenders of the current Mini Cooper, Buick Lucerne and Land Rover Range Rover the last few years, but the diversity and number of vented fenders is quickly growing.
In order of discovery, I noted that the 2007 Dodge Nitro, Aston Martin V8 Vantage, BMW 6-Series, Maserati Quattroporte, Mini Cooper, Cadillac Escalade, Pontiac Solstice, Jaguar XK8/R, Land Rover LR3 and LR2 were all sporting shiny vents.
And to help prepare for an even shinier future, I give you the 2008 Cadillac CTS, Ford Focus, Five Hundred, and F250/F350 (huge!), Mini Cooper, Buick Enclave, and Jaguar XF (in C-XF guise). Just for fun, check out the concept Jeep Trailhawk and Lincoln MKR for an even longer-range view.
The new Lexus IS-F has a big bold "F" right where the vent might be... maybe a subtle rebuke to this new trend?
So, what to think? I would be fine if all were authentic, but sadly this is not the case. When form follows function, I am proud to be in this industry. But when the 'vent' is nothing more than a bauble tacked to the fender like cheap plastic jewels stuck to a 13 year-old girl's cell phone, I think I am looking at 2007's version of "spinner hubcaps."
Posted by James Bell, Intellichoice.com
10:13 AM
2 Comments

|
Add a Comment
Like a hot rodder, you could buy a louver press and punch in some "real" vents. They would look better and probably be a lot cheaper than the "phoney".