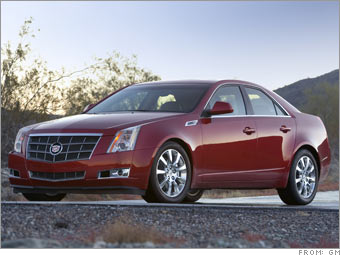 The 2008 CTS is probably the single most important new car Cadillac will launch this decade. This Cadillac has to prove once and for all whether GM's luxury division can truly deliver on the promise of its radical "Art & Science" styling revolution and run wheel to wheel with the likes of Audi, BMW, Lexus, and Mercedes-Benz.
In design terms, the new CTS appears a straightforward evolution of the current car. But you only need to walk around the '08 to realize this is probably the most revolutionary Cadillac sedan in decades. And here's why: You can see GM has spent some serious money on this thing. In terms of sheer manufacturing competence, the precise, complex execution of the sheet metal rivals that of BMW.
But it's more than just a panel engineer's masterclass: In the metal the new CTS oozes a character and charisma the somewhat cold and clinical current model lacks. "The idea was to use a little more art and a little less science so the car didn't look so computer generated," says exterior designer John Manoogian. "We wanted the car to look as if the surfaces were all developed by hand."
As with the current CTS, the new car's interior architecture is dramatic, though much more tastefully executed. The interior is dominated by an echo of the raised centerline of the exterior running through the dash and along the sweeping center console. New slim-line front seats mean there's more legroom for back seat passengers, even though the new CTS shares its 113.4 inch wheelbase with the current car. In fact, the new CTS is built off same basic vehicle architecture as the current car, although almost every major component has been changed or upgraded.
Base engine is the 3.6-liter "high feature" V-6, which boasts double overhead camshafts with variable valve timing (VVT). Already used in the current CTS, and fast becoming GM's mainstay V-6, this engine delivers 258 horsepower and 252lb-ft of torque. The big news under the hood, though, is a new 300hp direct injection version of the 3.6 that promises the performance of a V-8, with the gas mileage of a six.
Posted by Angus MacKenzie, Motor Trend
9:54 AM
1 Comments

|
Add a Comment
Even though the new Cadillac CTS might be as good or better then the likes of Audi, BMW, Lexus, and Mercedes-Benz, how do you see Cadillac marketing this vehicle to compete with those brands? As a consumer in the entry luxary sedan market I would never even thought of test driving a Cadillac over say a BMW 3-series, Audi A4/A6, and Mercedes-Benz C230. What does Cadillac need to do to seperate itself from the rest of the American car market brands that most people feel lack in quality and edgy styling?