You've probably read this before: Even when housing prices slump, they don't fall all that much, at least compared to stocks and other risky investments. I've passed on this bit of "wisdom" myself. And it it's not a
totally
ridiculous thing to say: Even in the big California bust of the mid-1990s, prices in the L.A.-Orange County metro area fell only 20%
peak to trough
in the region's worst five years. That's no Nasdaq. But, well, there's a bit more to it than that....
Below is a chart I made from data in a 2005
FDIC report
. It shows the worst
peak-to-trough
five-year nominal performance for housing prices in several markets. Sorry--the labels are a bit hard to read. (Try clicking on the chart to open it in a new window.) The blue cities are in California, the green ones are in New England. In red, dropping by as much as 40%, are "oil patch" towns, which cracked in the late 1980s right along with oil prices.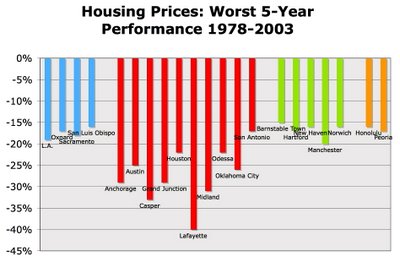 It's easy enough to dismiss the evidence from the oil patch, if you want to. Prices there were forced down by an unusual, and very local, economic shock. The economies of L.A. and Boston are better diversified. Then again, if the oil boom-and-bust of the 1980s was an anomaly, what should we call the easy-credit-driven housing inflation of the early 2000s? Liar loans, interest-onlys, option ARMs, and aggressive subprime lending have changed the rules. History wouldn't seem to be a very reliable guide right now.
One reason real estate prices tend to be less volatile than stocks is what housing economist Karl Case calls "downward stickiness." When prices fall, many people just decide to stay in their houses rather than cut their price low enough to make an easy sale. But that also means there's a lot human pain behind a housing decline of "just" 10%. People get stuck in their houses, and that can change their lives. There's a
good story
in today's
USA Today
about workers who can't relocate to find better jobs:
Forty-six percent of companies say recruiting employees is becoming more difficult as the housing market turns tepid, according to a 2006 survey by Prudential Relocation.

Three in 10 of those who turned down a relocation did so because of housing and mortgage concerns, according to a 2006 survey by Atlas World Group. That decision can come at a price: More than half of companies had an employee decline a relocation, and 35% of employers say turning down a move hinders an employee's career.

It's been a startling change for companies that must move employees because of corporate growth or local talent shortages. At Petco's corporate headquarters in San Diego, job candidates today want to know about relocating. The company is also doing more to supplement temporary-housing costs for employees who are transferring.
The silver lining here, I guess, is that companies are complaining about real-estate job lock, and they're shelling out a little bit to help entice reluctant workers. That means the job market is still reasonably tight, which should help the economy. If it holds. If.
Update 3/15:
For the record, the chart has been corrected since the initial post. (I added "5-year" to the label.)
Update 3/16:
Lots of good points in the comments below about the true cost of real estate losses. They should be drilled into the head of every Realtor.
A few things worth expanding upon:
I only have data for nominal (that is, before inflation) losses on real estate. Losses after accounting for inflation are much, much more common: The FDIC report found that since 1978, some 142 metro areas have seen real losses of over 15% over a five year period. That's compared to just the 21 cities in the chart with 15% or greater nominal declines.
Even a nominal loss of 20% looks pretty small compared to nearly 60% (also nominal) for the Nasdaq in the five years after the crash. And while some houses in the LA market may have fallen more like 40%, some Nasdaq stocks went to zero.
The big difference, though, is that most people have a lot more in their house than they do in the Nasdaq. And most people aren't diversified in real estate, whereas that's very easy to do with stocks. Bottom line: It's difficult to make apples-to-apples comparisons of the returns on real estate to the returns on stocks. In real life--that is, in the lives of non-professionals with a limited ability to diversify and a primary goal of purchasing shelter--equities and housing are very different assets. Beware of people in the real-estate industry who use simple average-returns comparisons to convince you that a house is an easy money machine.
Finally, leverage adds to the risk of real estate. But don't forget about imputed rent. You have to live
somewhere
. The fact that some of your investment pays for a necessary consumption good dampens your risk exposure.