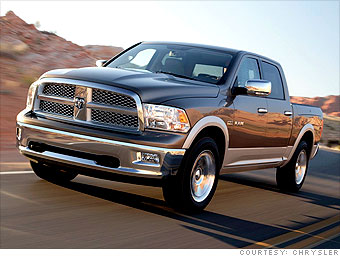 A 2009 Dodge Ram truck. Chrysler has arranged to create a version to be sold under the Nissan badge in exchange for a small car from Nissan.
What it can't afford -- or doesn't have time-to make on its own -- Chrysler is buying overseas. Product-development boss Frank Klegon estimates that 1,000 of his 7,000 engineers are assigned to joint venture projects outside North America.
China's Chery Automobile Co. is developing a subcompact car that Chrysler is considering selling under its brand.
Chrysler is also swapping marketing rights to its Dodge Ram pickup with Nissan in exchange for a Japanese-built subcompact, so far unnamed, that will appeal to gas-price-conscious U.S. buyers. The arrangements benefit Chrysler's dealers because they get another car line to sell. But they will probably not provide much bounce to the bottom line.
In both cases Chrysler loses the markup that comes from manufacturing and will have to settle for the marketing margin, if there is one. It's not ideal, but Chrysler has to take what it can get.
"We're skinned on capital a little bit," Klegon concedes. "It is a challenge."

NEXT: Painful recovery

Last updated August 07 2008: 7:40 AM ET
Email
|
Print
|

Digg this story
|
RSS