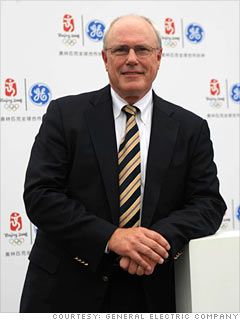 Title:
President of Olympic sponsorship and corporate sales
Age:
64
Location:
New York
What he does:
Sells contracts to build infrastructure for cities hosting Olympic Games.
Career highlight:
In Beijing, Foss's group won 400 projects, generating $700 million in revenue, by revamping GE's sales approach and naming a point person for each stadium to oversee everything from lighting to wastewater.
Downturn pricing:
"No one says, Gee, thank you for raising my price. I go to our customers and say, We'll give you all the economic data of what's going on, what's driving this in raw materials, and what a fair increase would be. We'll help educate you. And by the way, you probably need to raise your prices too."
What he avoids:
"You can't go in and be superficial. You have to be careful with asking, How are your kids?"
His pitch:
"Cities have seven years to build all these Olympic venues. When I walked in, I said, You've got all this infrastructure to build. We're an infrastructure company. I'm here to help you."
NEXT: Jeffrey Zyonse, Hartford Financial Services Group
Last updated September 24 2008: 10:14 AM ET
Email
|
Print
|

Digg this story
|
RSS