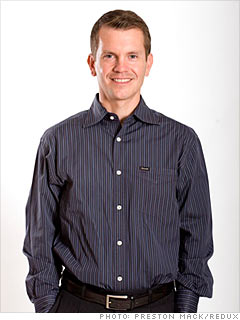 Title:
Regional sales director
Age:
36
Location:
Tampa
What he does:
Sells 401(k) plans to companies through financial advisors.
Cold-call strategy:
"Instead of giving someone the potential to answer yes or no, I give a choice of two positives. Instead of, Will you meet me? I say, Would it be better to meet in the morning or afternoon? I say it even if I'm making a special trip for the person."
How he deals with rejection:
"I learned early on, selling books door-to-door in college, that your next success is literally only a door away. You'll be in tears one minute, and behind the next door may be a big sale."
Recession survival skills:
"The last thing a client wants to feel from you is that things aren't going well. Even in a slow sales cycle, they want to deal with someone they feel is successful. I make sure my attitude is right."
NEXT: Kelly Moore, American Express
Last updated September 24 2008: 10:14 AM ET
Email
|
Print
|

Digg this story
|
RSS