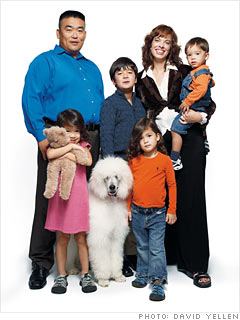 "Raising taxes for people at my level is like punishing success."
- Bill Kwon
Peoria, Ill.
Household income: $375,000
Financial advisor; freelance photographer


"I try to save 25% to 30% of my income every year," says Bill. "I'm a financial advisor, so I practice what I preach." At that rate, Kwon is among the few people in his income bracket heading for an affluent retirement. Kwon lives frugally, buying cars on eBay and shopping for discount airfares online.
"When I was young, I thought the well-to-do in Peoria had perfect lives," says Kwon. "Now I know they're just hard-working people supporting their families."
NEXT: Kelly Lynch and Jill Fenske
Last updated October 27 2008: 8:46 AM ET
Email
|
Print
|

Digg this story
|
RSS