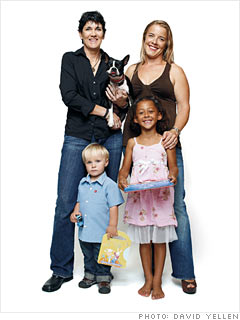 "If I blew my money like other people, I'd feel rich"
- Kelly Lynch
Redondo Beach, Calif.
Household income: $400,000
CEO, maintenance company; chemical engineer
Like most people in her bracket, Kelly Lynch doesn't feel rich. "Making $400,000 sounded like a lot of money coming out of high school," she says. "Now I feel more like we're making $100,000 instead of $400,000." The couple pays about $100,000 a year in taxes, saves $800 a month for the kids' college funds, and puts $4,000 a month toward retirement. "If I were rich," she jokes, "I'd have an ocean view and take longer vacations."
NEXT: Lindsay and Zach Mayer
Last updated October 27 2008: 8:46 AM ET
Email
|
Print
|

Digg this story
|
RSS