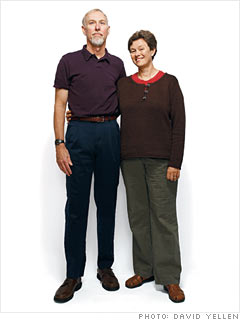 "We're not wealthy at all. We're well off and successful"
-- Lee Pfannmuller
Minneapolis
Household income: $275,000
Biomedical engineer; manager, state agency
College costs are a huge item for them. Gary and Lee paid $50,000 a year to put daughter Kristen through Cornell. Now they face another four years of college bills: Their second daughter, Gretchen - whose high school cost $15,000 a year - is a Cornell freshman. The couple pay around 30% of their income, or $83,000, in federal, state, and local taxes.
NEXT: Drs. Kymberly and John Selden
Last updated October 27 2008: 8:46 AM ET
Email
|
Print
|

Digg this story
|
RSS