Meet the HENRYs (high earners, not rich yet). They make $250,000-plus and get taxed to high heaven. And they're about to be socked again.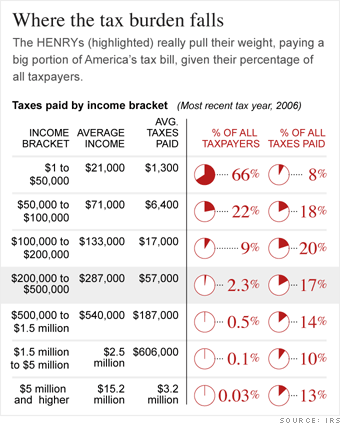 Aspiring HENRYs played by the rules: They won the best grades in high school, got accepted at good colleges and grad schools, and worked daunting schedules as medical interns or associates in law firms.
Now this group of superachievers is being targeted as a cash machine. Barack Obama has pledged to pay for middle-class tax cuts and credits by raising taxes on the HENRYs. Obama and the congressional Democrats frequently refer to households earning over $250,000 as the "rich." But whether the HENRYs are truly "rich," or ever will be, is debatable.
The reason the HENRYs are strapped for both lifestyle and nest egg is twofold: First, they already face a large and rising burden for federal, state, and property taxes plus the knife of the AMT. Second, they invest heavily in their kids: saving for private colleges, paying for day care - and providing dance, tennis, or gymnastics lessons. They have little left over for either extravagant living or, in many cases, saving for an affluent retirement.
NEXT: Bill and Kira Kwon
Last updated October 27 2008: 8:46 AM ET
Email
|
Print
|

Digg this story
|
RSS