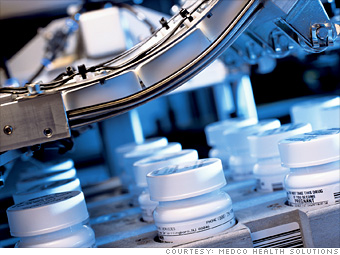 For decades, Americans' health coverage has been fraying, and every new President vows to tackle the problem. The incoming Obama administration has made similar promises. As the largest pharmacy benefits manager (PBM), Medco Health Solutions is poised to benefit from potential reforms. But this well-managed enterprise should thrive even if the government fails to overhaul health care, because the company already addresses the overarching problems of high costs and low quality.
Increased use of generic drugs should also give Medco a lift. "Generics benefit prescription benefit managers because the margins on generics tend to be better," says Les Funtleyder, author of Healthcare Investing and an analyst at Miller Tabak. In just a few years we will see some of the biggest blockbusters come off patent, including Pfizer's Lipitor, the cholesterol treatment that is the top-selling name-brand drug on the market. Bristol-Myers's heart-attack-prevention drug Plavix and Eli Lilly's bipolar-disorder treatment Zyprexa also lose their patent protection in the next three years. "Even if health-care reform doesn't generate increased use of generics, these expirations will," says Funtleyder.
Medco has been doing well even without those external factors. The company keeps its corporate customers happy; it has a retention rate of 98% for 2008. Earnings per share jumped in the third quarter by 49%, and the company gave a full-year 2009 earnings estimate of $2.45 to $2.55 per share, up 15% to 21% over its 2008 guidance. Moreover, the company trades at a P/E ratio of 15, the same as rival Express Scripts, despite Medco's dominance in the category.
NEXT: Pfizer
Last updated December 17 2008: 10:12 AM ET
Email
|
Print
|

Digg this story
|
RSS