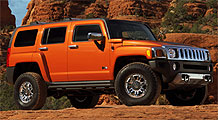 Specs:
4dr SUV 4WD (3.7L 5cyl 4A)
Sticker Price:
$43,130
What people are paying:
$34,288
(includes $6,000 rebate)
With GM's recently announced plan to sell Hummer, and last summer's steep gasoline prices fresh in buyers' memories, the SUVs are a tough sell. So GM is using rebates of up to 15% to help move them. With Hummers and many other models, look for regional deals. And if Hummer dealerships are shut down, buyers shouldn't worry about losing warranty information. GM uses a centralized warranty database, making service information available through other dealers.
NEXT: 2009 Chrysler 300C
Last updated June 02 2009: 11:18 AM ET
Source: Source: Edmunds.com