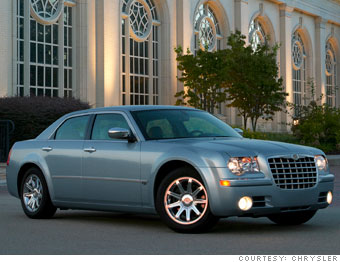 Specs:
4dr Sedan (5.7L 8cyl 5A)
Sticker Price:
$37,135
What people are paying:
$29,626
(includes $4,000 rebate)
This model was very popular when it debuted five years ago. "It's very aggressive and assertive looking," Reed says. "That really appealed to a certain type of driver." Now, with Chrysler set to sever ties with about 800 dealerships by June 9, those businesses are anxious to sell their entire inventories, and this niche vehicle may be one of the many whose new pricing gives it broader appeal.
NEXT: 2009 Chevrolet TrailBlazer SS
Last updated June 02 2009: 11:18 AM ET
Source: Source: Edmunds.com