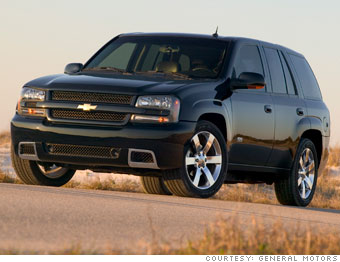 Specs:
4dr SUV (6.0L 8cyl 4A)
Sticker Price:
$37,195
What people are paying:
$32,028
(includes $3,000 rebate)
Put the engine from a Corvette under the hood of a midsized SUV and you get the TrailBlazer SS. Truck-based SUVs have been slow sellers ever since gas prices topped $4 a gallon last summer. That's why rebates on vehicles like this are so big. For those who aren't too worried about fueling it, the SS offers some serious performance credentials while retaining its solid SUV functionality.
NEXT
Last updated June 02 2009: 11:18 AM ET
Source: Source: Edmunds.com