In a year when the economic downturn hit every sector, these 8 employees helped their companies save resources and prepare for the recovery.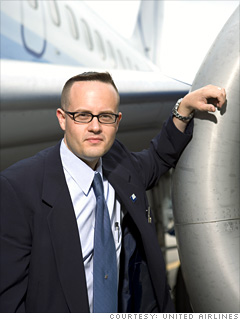 2009 Fortune 500 rank:
123
As a self-described "United Geek" who had dreamed of working for the airline since childhood, Frank Dean wanted to find a way to give back to the company's most loyal customers.
"The people who go out of their way to fly with us just deserve a little extra acknowledgement sometimes," says Dean, who is a flight attendant with the airline.
Thanks to a suggestion from a frequent flier, Dean dreamed up a behind-the-scenes tour of United's worldwide center for maintenance operations in San Francisco. He pitched the idea to United officers, and they not only agreed, they gave him a budget for the program. The tour happened in 2007, and more than 100 customers flew in for the event and got a look at everything from engine maintenance to landing gear.
Dean held a repeat of the event during Fleet Week in October 2008, and he hopes to make it an annual outing. He says it's a way to thank their most loyal customers, but it also has the added benefit of furthering brand loyalty.
"We need to hold onto these customers, especially when corporate accounts cut back on travel," he says. "All of the airlines need to step up."
NEXT: Kathy Soenderby - Union Pacific
Last updated April 27 2009: 10:24 AM ET
Email
|
Print
|

Digg this story
|
RSS