Investor Bill Ackman has put up his own slate of five directors for the companies board. Here's a look at the face-offs.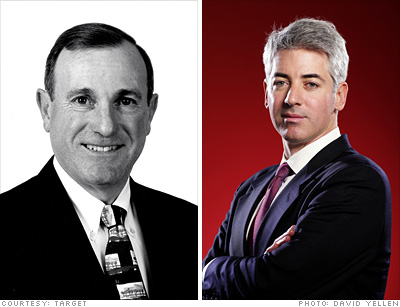 It's the biggest proxy fight of the year, and certainly one of the most colorful: Hedge fund investor Bill Ackman is vying for five seats on the board of giant retailer Target. He claims that Target has lost its edge in part because of a lack of experience among its board members in the realm of credit cards, retail sales and commercial real estate. Target, for its part, says that its board is top-notch and that Ackman is simply whining because the company rejected his proposal to spin off the land under its stores. We present here the candidates for both sides.
For Target: George Tamke
, partner in Clayton, Dubilier & Rice, an investment company. He was previously co-CEO of Emerson Electric and interim CEO of Kinko's. Target says his broad business sense is very valuable to the company.
VS: William Ackman
, founder, Pershing Square Capital Management (far right). Currently holds a 7.8% stake (in stock and options) in Target and says he will be a better representative for shareholders than the current board, which collectively holds just 0.3% of the stock outstanding. His Target-only investment fund is down 85% in less than two years.