Fahrenheit 212 has made a thriving business out of solving other companies' innovation problems. Here are a few of their results.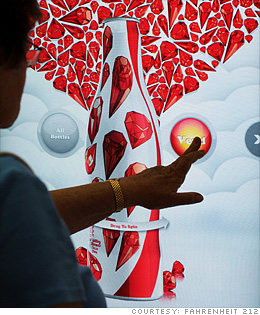 Vending machines don't exactly scream "innovative." But at Manhattan innovation consultancy Fahrenheit 212, innovation is about tackling the big problems of product, process, and long-term vision that so many companies face, but never seem to fix.
And, believe it or not, for Samsung Electronics, vending machines turned out to be the answer to just such a question. Samsung wanted to boost its business for LCD screens larger than 10", but there didn't seem to be much use for the products beyond televisions, monitors, and digital cameras. So Fahrenheit proposed -- among other ideas -- putting them on vending machines as large, dynamic, touch-screen displays.
The resulting uVending machines are networked, so vendors can monitor inventory remotely, offer nutrition information, and even update and target messaging.
Coca-Cola was the first to license uVending -- unveiling its machines to queues of curious consumers at the 2008 Beijing Olympics and launching them throughout the United States in Simon Malls this year -- and Kraft Foods has since signed on, too.
NEXT: Samsung ID