University of Saskatchewan Space Design Team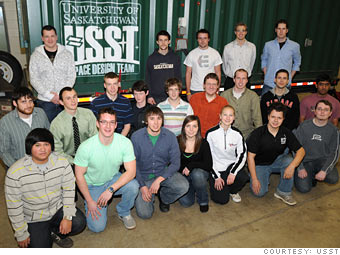 Saskatoon, Saskatchewan, Canada
Competing in:
Power Beaming Challenge
History:
Competed in 2007, 2006 and 2005
Made up of a motley crew of engineering graduates and undergraduates, USST has been the frontrunner in the power beaming challenge every year since it began -- but the team has never gotten its hands on the Grand Prize purse. In 2006 and 2007, USST's entry made it up the cable but too slowly. It fell short of the competition goal by only a few seconds. The team's preparation over the past two years has been fueled by its determination to make up for that small amount of lost time.
"It's been a long journey," says team president Patrick Allen.
USST started out using searchlights to power its robotic climber up the cable, but in 2007 the group switched to using the more powerful and precise beam of a laser. Preparation for this year's competition, with its higher one-kilometer cable, has forced the team to be more creative in designing its system -- and has required last-minute troubleshooting. Most recently, that included rethinking the system's communications infrastructure, to prevent interference between the two kinds of data being sent wirelessly back and forth between the robotic vehicle and the team's command desk.
"We'll hopefully have it all figured out again soon," says Allen.
If USST does manage to nab first prize -- up to $2 million -- Allen says the team plans to put that money toward scholarships for all its members and to set up a fund to support similar student groups at the university.

NEXT: Delta X


More