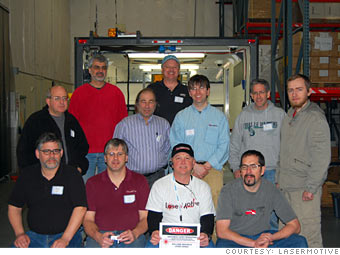 Power Beaming Challenge
Headquarters:
Kent, Wash.

History:
Tried to enter in 2007, but failed to qualify
Unlike most other teams at the Space Elevator Games, LaserMotive is a for-profit startup that's banking on the competition as a means of kick-starting its business. The company was incorporated soon after physicist founders Jordin Kare and Tom Nugent attended the 2006 games.
"We thought we could do a better job," says Kare. He's been working on laser technology for decades, including a long stint at the Lawrence Livermore National Laboratory, and was keen to start a company focused on power beaming -- the wireless transfer of electricity using a laser beam. The Space Elevator Games competition seemed like the perfect debut for his new company, with a prize purse that could serve as seed capital.
But LaserMotive's 2007 first attempt proved a bitter disappointment. Last-minute tweaks rendered the team's system inoperable, and LaserMotive failed to qualify for the competition. "We made a mistake. We took a working system and turned it into a not-always-working system," says Nugent. This year, his 20-person team is coming better prepared.
LaserMotive's not-so-secret weapon is the high-diode laser that it owns, thanks to a steep discount from Dilas, a sponsor of the Games. LaserMotive's Dilas laser works at a different wavelength than the laser that the other teams will be sharing at the competition, Kare says. Unlike the shared one, the wavelength of LaserMotive's laser is compatible with the high-efficiency solar cells on the team's robotic vehicle, which LaserMotive expects to help its vehicle speed up the one-kilometer cable faster than its rivals. Owning their own laser has also given the team members plenty of time to test out their system before taking it to the Games.
"This is an opportunity to get people interested and show them what we can do," says Kare, who, like his teammates, has invested tens of thousands of dollars in the startup. "And if we're successful, it'll bring in a little bit of capital -- which would be nice."

More galleries


More