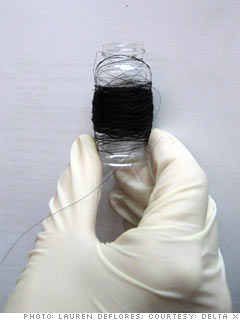 Tether Strength Challenge
Headquarters:
Boston and Concord, N.H.
History:
Competed in 2007
Stephen Steiner first heard about the space elevator at a talk by the director of NASA's Institute for Advanced Concepts. He was astonished to hear that some scientists believe the 60,000-mile-long cable the elevator would require could be made from an ultra-strong and ultra-light material such as carbon nanotubes.
"I remember thinking it was crazy, because it would be impractical to produce enough carbon nanotubes for a space elevator," Steiner says of the synthetic carbon molecules, which are stronger than steel but as-yet very difficult to mass produce in anything other than a powder form. But soon afterwards, Steiner, now a material sciences Ph.D. student at MIT, learned of a process for making carbon nanotubes more than one millimeter long. That inspired him to enter the Space Games' Tether Strength Challenge in 2007.
To do that, he joined forces with other MIT graduates as well as Nanocomp Technologies, a Concord, N.H., company that has been working on growing carbon nanotubes for five years. More recently, the company has begun spinning clusters of nanotubes into yarn and even producing whole sheets of the material. "They were leaps and bounds ahead of anything we could approximate at MIT," Steiner says.
For the 2007 Tether Strength Challenge, the Delta X team braided hundreds of meters of Nanocomp's scrap thread into a two-meter rope and knotted it into a closed loop. Unfortunately, during the competition, the rope broke when a knot came undone under pressure.
That hardly mattered to the team members. "We knew we couldn't win, but we showcased the world's first viable tether made completely out of carbon nanotubes," Steiner says. "It blew people's minds."
This time around, Nanocomp's capabilities have improved enough that the company can easily produce a two-meter-long closed-loop rope. "This year there won't be any knots," says Steiner -- although he admits that the material is still far from perfect. He doesn't expect to walk home with the prize purse. In fact, it will probably take months or even years to figure out how to make the chemical bonds between the clusters of carbon molecules as strong as the molecules themselves.
But Steiner is optimistic about the future. "Carbon nanotubes will undoubtedly become the strongest material ever created," he says. "It's just a matter of time and a little bit of science."

NEXT: LaserMotive


More