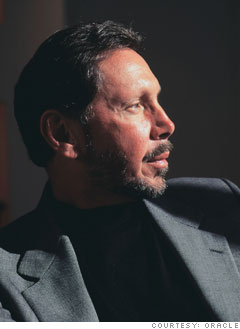 Co-founder and CEO, Oracle
I remember when Steve was my neighbor in Woodside, Calif., and he had no furniture. It struck me that there wasn't furniture good enough for Steve in the world. He'd rather have nothing if he couldn't have perfection.
And I jokingly said, "The difference between me and Steve is that I'm willing to live with the best the world can provide. With Steve that's not always good enough." And if you look at how he tackles building a phone, or building a laptop, he really is in pursuit of this technical and aesthetic perfection. And he just won't compromise.
But he's never been motivated by money. Once we were hiking, and Steve looked at me, put his right hand on my left shoulder and his left hand on my right shoulder, and said, "Larry, that's why it's really important that I'm your friend. See, you don't need any more money."
He's enormously proud of the fact that Apple is now the highest-valued company in Silicon Valley, higher than Cisco, higher than Intel, higher than Google, higher than Oracle.
-- Interview by Adam Lashinsky
NEXT: Marc Andreessen