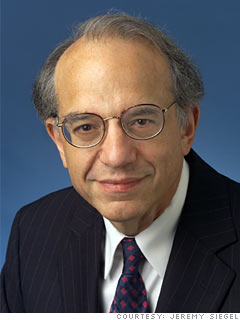 Author and professor at the Wharton School of Business
With stocks coming off their worst decade, I believe the next 10 years will bring returns in equities at or above their long-term normal of 6% to 7%, after inflation.
Returns on a diversified global portfolio of equities will be at least that much. I do mean global. Over half the world's equity capital is now outside the U.S., and that fraction is growing.
For the S&P 500, 40% to 50% of profits and revenues come from foreign sales, and that fraction will be rising. You have to be internationally diversified -- in both emerging and developed markets. There's no question emerging markets will grow faster than the developed.
That doesn't mean go after the firms that are there. Some are overpriced. Go for the firms that recognize where the growth is going to be but are still reasonably priced. They could be in the U.S., Germany, or anywhere.
More galleries