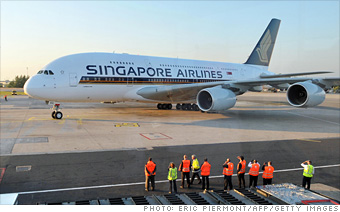 Singapore Airlines has ordered 19 Airbus 380s.
Singapore Airlines may be one of the biggest surprises on this list: At a time when airlines are almost universally reviled for taking away perk after perk, it earned especially high points for quality. And amid the worst travel slump in years, it notched up five spots on our overall Most Admired list.
Perhaps that's because, CEO Chew Choon Seng says, the airline didn't touch its services: First-class passengers still enjoy Dom Perignon, lobster thermidor and saffron rice while reclining in hand-stiched Italian leather seats. They can fall asleep in complimentary Louis Vuitton pajamas while watching a personal 23-inch TV.
The amenities are important for Singapore Air, which receives 40% of sales from premium travelers. How much do customers like the airline? Here's a typical comment on Yelp.com: "No shyness here...I LOVE..no I'm deeply in LOVE with Singapore Airlines."

NEXT: Nordstrom